Top of page
Packaging and mail
Wesley Industries is a mailing and packaging services for businesses. Working with us means you're providing meaningful employment, supporting people with a disability to build confidence, learn new skills and create an income. Let us help you find the right promotional solution for your business. Call us on
3717 7000
or contact us online.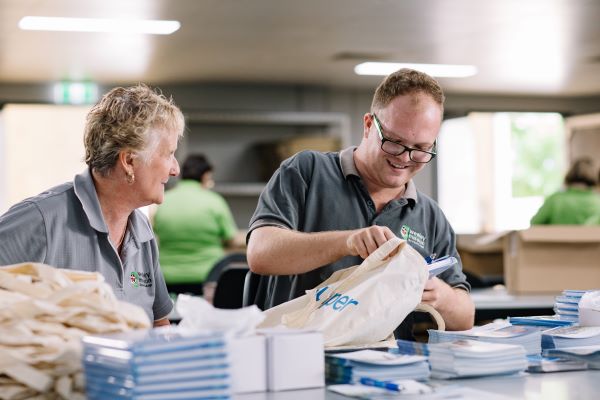 Cost effective services for a range of needs
Wesley Industries specialises in superb quality packaging and bulk mailing. Our cost-effective services are ideal for businesses with short deadlines and volume that can't be managed in-house. Whether it's a small one-off job or a regular large volume contract, we can assist you.
We offer:

Mailing - bulk mailing, plastic wrapping, packaging, assembly, shrink wrapping, labelling
Other services - folding documents, inserting items into bags, envelopes or magazines, labelling and barcoding, collation.
We understand how important data integrity and security is. All our mail-outs comply with Australia Post standards. We also have stringent security measures in place to ensure your promotional materials and information are kept safe.
We're located at 6 Pegg Road, Rocklea, Brisbane QLD 4106. Contact us for an obligation-free quote on 3717 7000.
Work with us and make a difference
Wesley Industries operates as a packaging and warehouse service centre. But there's more to us than that. As an Australian Disability Enterprise (link opens in new window) we take a lot of pride in making Wesley Industries an attractive environment to work in, where people feel comfortable. We want people to have positive interactions and enjoy their experience at work. We understand the hurdles to gaining supported employment and have designed an adaptive, flexible, and quality service that meets the needs of our employees and customers.

Working with us means you're providing meaningful employment and supporting people living with a disability.
Get in touch
Contact us to find out more about Wesley Industries and how we can help you. Call
3717 7000
or contact us online.