Top of page
Brisbane West's only overnight cottage respite centre
Hadden Place
Hadden Place is the only specialised overnight and day respite centre in Brisbane West, providing you with an extended break in our safe, secure, friendly and caring environment.
Location
Level 2 Dovetree building, 620 Seventeen Mile Rocks Rd
Sinnamon Park
Queensland 4073
Opening hours
8am - 4:30pm Monday to Friday
Visit us and take a break at Hadden Place respite centre

Hadden Place is a specialised overnight and day respite centre, providing you with a safe, secure and friendly environment where you can connect and meet new friends.
You will have access to experienced carers, a diverse range of engaging activities and care tailored to your personal preferences.
Located in the modern Dovetree building at Sinnamon Village and overlooking peaceful bushland, you will find a sense of serenity and tranquillity amidst the hustle and bustle of city life.
Welcome to Hadden Place. Brisbane west's only overnight respite centre.
Take part in daily group activities such as light exercises or social groups. Engage in other activities such as discussions, puzzles, games, music or singing. Morning tea, afternoon tea and a two-course lunch are included for all guests.
Unwind at the end of the day in your own room complete with an ensuite, knowing that support is there if you need it. Enjoy the convenience of local area drop-off and collection services.
The team at Wesley Mission Queensland are here to support you.
To learn more call 1800 488 488 or visit wmq.org.au.au/hadden place
Services, features and eligibility

Enjoy all the comforts of home, including quality meals, activities, and visiting health professionals, in a secure and culturally inclusive environment. With flexible booking and a range of funding options available, let us help make your respite experience a memorable one.
Hadden Place is a diverse centre, offering day programs, outings and overnight cottage respite for people aged as young 18 years alongside those over the age of 65.
Our overnight services, we facilitate and provide:

Booking flexibility to suit your needs. You can book a single ensuite room in advance or at short notice, subject to availability.
All the home comforts such as a hot meal and evening activities.
Experts in caring for older people with high care needs.
During the day, we facilitate and provide:
Social groups, social outings and bus trips.
A range of visiting allied health professionals, including podiatry, occupational therapy, physiotherapy and speech pathology.
Companionship, gentle exercise, board games, music and art therapy.
Visits from experienced hairdressers.
A peaceful courtyard garden.
Hadden Place offers a friendly, safe and respectful environment for people with a range of care needs, including those with dementia.
Wheelchair accessible
Overnight cottage respite
Specifically designed to provide a secure environment for those with dementia
Close to the Fulton Wellbeing Centre so you do not miss your allied health appointments
Culturally inclusive
We welcome people over the age of 18 years with a range of abilities, including those living with a diagnosis of dementia who require a secure centre.
All clients' need to be independently mobile or mobile with the help of one person.
Funding and payment options

Funding your respite care can be done via:
your Home Care Package (HCP),
the Commonwealth Home Support Program (CHSP) and an appropriate referral,
private or NDIS funding,
the Queensland Community Support Scheme
Contact us to find out more about our fee for service options.
"My dad stays at Hadden Place for 10 weeks every year. For me it's peace of mind and knowing that he's well cared for. It's the perfect spot for my dad."
Narelle, daughter of Matthew, a Hadden Place guest.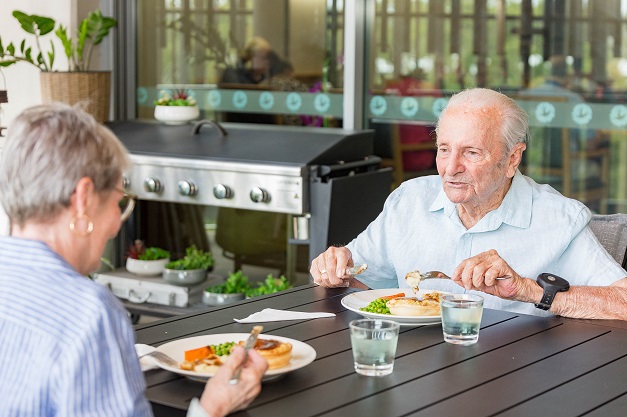 Location
Level 2 Dovetree building, 620 Seventeen Mile Rocks Rd
Sinnamon Park
Queensland 4073
Opening hours
8am - 4:30pm Monday to Friday
Hadden Place has an 11-seater commuter bus to provide clients with transport to and from the centre. The bus operates in the surrounding suburbs to Sinnamon Park. Clients who wish to use this service will be picked up between 9 - 10am and will leave the centre between 2:45 - 3pm.
Public transport and visitor parking is also available, along with designated drop-off points.
Contact us for more information about our commuter bus service.
Respite care that works for you
Thank you for filling out our form.