Top of page
Wesley Industries disability supported employment Brisbane
Wesley Industries offers supported employment for people of all ages living with disability. We focus on making work enjoyable. We're also easy to get to - Wesley Industries is located only a short walk from the Rocklea train station in Brisbane.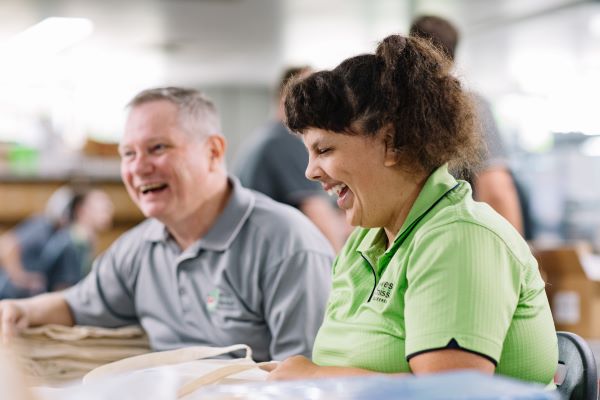 An employer who understands
Wesley Industries is a non-judgemental, understanding employer. We believe that a supportive environment produces better work. In fact, we don't just believe it – our customers have told us that our environment and outputs are second to none.
Hi. My name's Greg Ryan. I'm the manager of Wesley Industries, our disability employment service.

I enjoy being part of this team because it's my role to clear the obstacles so people can come to work and actually have a bit more meaning to their life.

That's what this really this program is all about linking individuals to community because we actually provide productive work.

People are paid to come to work. They feel productive when they participate in work.

The work that they do is actually real work required by commercial businesses so they can actually sell their products.

It helps my confidence and it's a purpose of waking up every morning, of seeing people that I'm excited to see, friends, friendly staff.

It makes me feel I can do this today and just be excited to go to a work place that you love going to. It's I just get excited and then I can't wait to go to work the next day.
Breaking the norm for NDIS supported employment
Wesley Industries operates as a packaging and warehouse service centre. But there's more to us than that. As an
Australian Disability Enterprise
(link opens in a new window), we take a lot of pride in making Wesley Industries an attractive environment to work in where you feel comfortable. We want you to have positive interactions and enjoy your experience at work. We understand the hurdles to gaining supported employment and have designed an adaptive, flexible, and quality service that meets your needs, as well as the needs of our customers.
Benefit from our extra programs on-site
We also offer an extra service to all employees with our Wesley Arts program. Wesley Arts is an exciting collection of creative workshops run by qualified artists and musicians. As an employee, we welcome and encourage you to attend these workshops during work time. You can choose from lots of different workshops including singing, visual art and drumming on-site at work every day of the week.
Accessing Wesley Industries
We have roles available now. If you have employment under your NDIS plan, let's chat about how you can gain new skills and training, make new friends and earn an income in a supportive and enjoyable environment. Call us on
3717 7000
or
contact us online
.
Don't just work. Play.
Wesley Industries employees have access to our on-site creative arts program.
Wesley Arts