Top of page
Across Brisbane and online, Wesley Arts provides high-quality workshops, career pathway support and exhibition & performance opportunities in visual, performing and digital arts, for people of all abilities.
We connect you with working artists, so you can effectively learn skills from your chosen art form, equipped with the tools to use the arts to enrich your whole life – whether that's increasing your own capacity, managing your wellbeing, or building your career in the creative industries.
Visual arts
Performing & Literary arts
Digital arts
Attend a workshop, apply for a mentorship package or have the chance to perform or display your art. We cater for beginners through to professional artists and people with a range of abilities. Join in on the fun, be energised, and learn new skills at one of our face-to-face workshops in Brisbane or online from anywhere in Australia! All our workshops are available under NDIS or you can pay privately.
[Annie] There's many ways that we can support and walk with others through their life.
We believe the arts bring new skills, new connections, confidence and general improved health. We see the arts engagement and practice positively transforming lives.
Wesley Arts offers workshops in visual arts, in performing and literary arts, and also in digital arts.
We also offer tailor made mentorships and loads of performance and exhibition opportunities. Opportunities to explore and express who you are to be seen, heard and valued. Our diverse programs are across Brisbane as well as our beautiful inner city gallery, Art from the margins.
If you are in regional Australia or simply think your needs, we also can offer almost all of these services online in the comfort of your home. The arts is a space where communities can create, listen, reflect and engage with each other through the telling of our stories. In this country we have new stories evolving every day.
Alongside knowledge and stories that are tens of thousands of years old. Wesley Arts works to help everyone's
voices and stories be heard.
[Participant 1] Lots of things, new skills and also, meet lots of new people and my favorite thing is, everything around me. I like being here.
[Participant 2] I like Wesley Arts because I can go out and about. It helps me express myself.
It helps other people understand who I am.
[Annie] Through sharing our creative stories, we share ourselves, our hopes and aspirations.
A beautiful opportunity to understand each other, be better, reach out and invite the world to join us.
Learn new skills, explore your own self-expression, improve your mood and mental wellbeing, and connect with others.
We've seen it with our own eyes - involvement in the arts can change your life.
Give it a go and see what our inclusive and welcoming arts programs can do for you.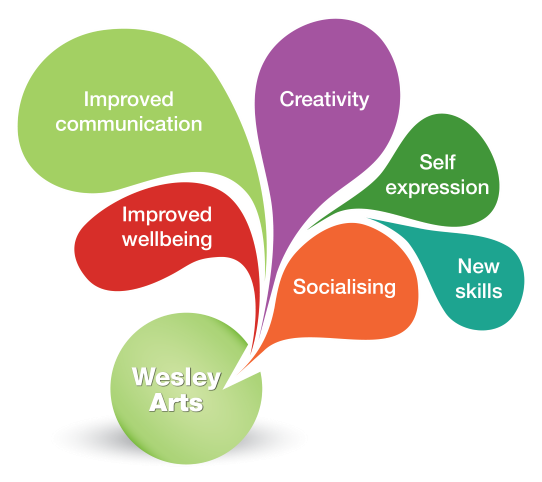 Visit Art From The Margins Gallery & Studios

Visiting hours: Monday - Friday 10am - 4pm
(Gallery closed weekends and public holidays)

Location: 136 Brunswick St, Fortitude Valley QLD 4006


Phone: 07 3151 6655
For more information and to book your FREE trial
Thank you for filling out our form.