Top of page
My Wesley Connect
The easiest and most time efficient way to keep up to date with what's happening in our aged care communities. See what's on, receive important messages and get the latest on how we are managing risk of COVID-19.
Register for My Wesley Connect, download the My Wesley Connect App and accept the terms and conditions today.
Register for My Wesley Connect
Introducing My Wesley Connect
My Wesley Connect is a purpose-built app designed to improve communication and connection within selected Wesley Mission Queensland residential and short-stay communities.
The app is designed to promote communication between staff, customers and their families by providing a private online environment where stories and information can shared.
Through the convenience of your mobile phone or tablet device you will have easy access to news and events, receive real-time updates through photos and stories and have important information, resources and notifications at your fingertips.
My Wesley Connect is free to download from the App Store or Google Play. Simply register your email and you will receive instructions on how to activate your account once your identity has been confirmed and the app is available in your selected community.
Download the My Wesley Connect brochure for residential aged care (opens in new window).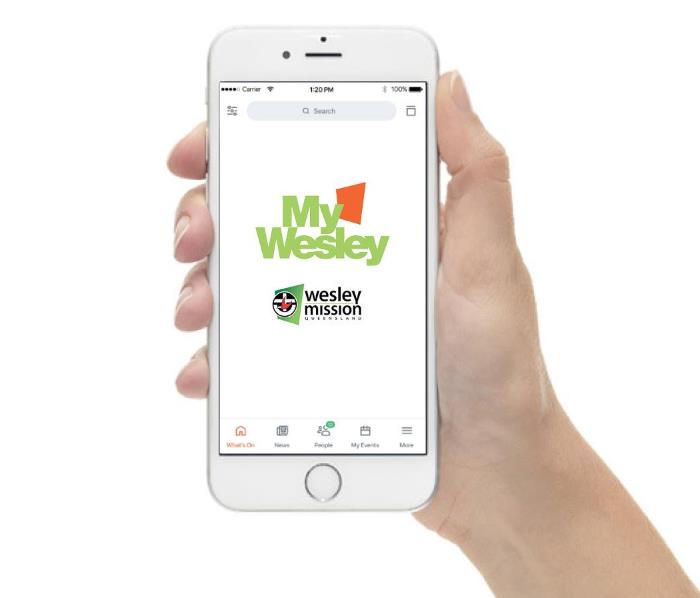 Download My Wesley Connect
Use the links above to download the app to your mobile device (phone or tablet) or search for "My Wesley Connect" from either store.
Your email address needs to be registered with your local community before your account can be created. Use the registration form on this page to register your email.
If your email is already registered and you have received an email you can follow these instructions to activate your account.
Key features and benefits currently include
Close to real-time community updates.
You don't have to wait for our monthly newsletter to be updated with what is happening at your community, just log into the app to see the latest news stories and updates.
Important information in one place.
Contacts, resources, maps, visitor information and more, all available in one place and easy for you to find.
Advanced notice of activities and events.
See activities calendars in advance and plan your visits around special events to make the most of your time with your loved ones.
Alerts and notifications.
Receive notifications straight to your phone with any important messages or information we need to give you.
Free to download from the Google Play and iOS App store.
Privacy, security and choice
My Wesley Connect provides a private online community where all users require a username and password to login and use the app. There is a local screening process that takes place to ensure your privacy.
WMQ takes care to always promote choice to our customers, providing off line and traditional communication for users who opt out or do not have the capacity to use the technology.
The technology conforms to strict security requirements. All data is held in Australia; systems are subject to independent annual penetration tests and intrusion detection; data is encrypted and secured with appropriate anti malware software and firewalls; secure application development processes are adhered to.
Wesley Mission Queensland has a unique co-design partnership with the developers of the technology to ensure it is tailored to meet the needs of older Australians and continues to evolve and improve in line with our customers' needs.
We will be actively seeking your input and feedback which will be used to continually improve and develop the product to ensure we meet your needs.
Supporting you at every stage
Our team is here to guide you and your family through your choices, explain fees, and answer any questions you may have. Contact our friendly Residential Admissions Coordinators today.
Register for My Wesley Connect
We know the path into residential aged care can be emotional and confusing, and our team is here to support you. Please call us on
1800 448 448
or complete this form
.
Thank you for filling out our form.