Aug 21, 2020
The impact of Eden Alternative Philosophy of Care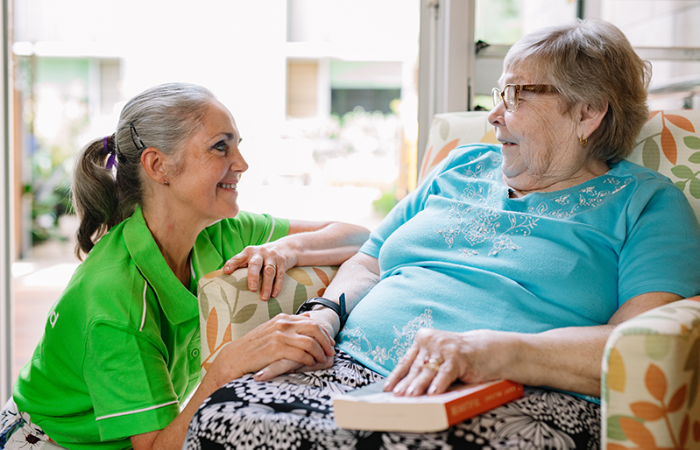 No matter our age or stage of life, we all want the opportunity to build relationships, have new experiences and enjoy a lifestyle that suits us. Since 1936 Wesley Mission Queensland has been providing services in aged care - today one of the sites stands where Brisbane's very first aged care community was built. Eighty-four years on and in the year 2020, we have thirteen aged care communities across Brisbane, Queensland, which 993 residents call home.
We pride ourselves on our care and commitment to creating a full life for residents in their homes. In all our aged care communities we embrace the internationally recognised Eden Alternative™ philosophy of care. This innovative way of thinking leads residents to feel empowered, engaged and excited about life.
Currently, Wesley Mission Queensland has six of its communities Eden registered and seven working towards becoming fully accredited.
While we are working towards accreditation, all our communities have several practices in place to create a warm and inviting environment for residents and families that stem from the overall Eden Philosophy of Care. Our Leisure and Lifestyle Coordinators are continuously consulting with residents to find out what fun activities they want to see in their home. Whether that's an arts and craft afternoon, men's shed, gardening, happy hour, music and singing or a good old movie.
We also aim to create a vibrant hub at our communities through on-site cafes, large entertaining space for residents and families to enjoy and outdoor playground for children. Age and abilities do not exclude anyone from activities that may be happening.
That's not to mention the effect that animals in aged care have on residents, families and staff. In many of our aged care communities we have residential pets, including, dogs, cats, birds and even chickens. The energy, comfort and companionship that animals bring into our homes is undeniable. The snuggles of a dog can alleviate stress and improve wellbeing.
Resident's voices are listened to and heard when making decisions in their community. In several homes, residents are nominated to be involved in the recruitment and hiring of prospective staff. Their opinion matters in making these decisions, since they are the ones that will be cared for and supported. Each home also holds a resident committee group, where residents and staff can come together to constructively discuss improvements that could be made to their home and life.
Eden Alternative accreditation is not easily acquired, and our staff continuously look for ways to improve the wellbeing of residents. Every day, Wesley Mission Queensland staff look to the Wesley Charter to embody our values in the way we work. The seven domains of Eden are also a part of our Wesley Charter - identity, growth, autonomy, security, connectedness, meaning and joy.
The Eden Alternative provides structure and a realistic way to care for those in our aged care communities. Keeping residents connected, supported and safe is at the heart of what we do. Together, Your Story is Our Story.
To learn more about our residential aged cares, visit our webpage. To watch our Eden in Action video, click here.