Apr 2, 2020
Technology with heart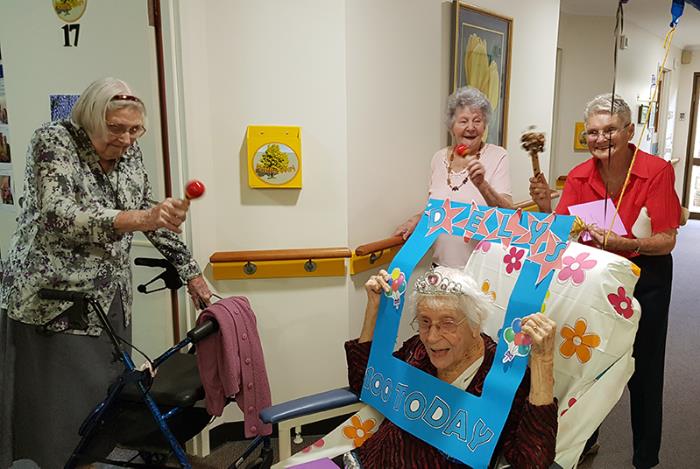 It was an extra special day for aged care residents Delys and Joyce at Wesley Mission Queensland's Cooper House community, as they celebrated their 100th and 99th birthday respectively on Wednesday. Although Delys and Joyce couldn't celebrate with family and friends in person, they were still able to connect with loved ones all over Australia by live-streaming through an innovative app called My Wesley Connect. Wesley Mission Queensland recently launched My Wesley Connect as a pilot in four of its aged care communities and aims to improve connection and communication.
Due to the current pandemic, Wesley Mission Queensland, like many other aged care communities, has regretfully made the decision that visitors will not be allowed in to their aged care communities. However, that didn't take the shine away from Delys and Joyce as staff worked with all residents to make sure they could wish the two a happy birthday and live-stream to families.
Angela Jacobson, Leisure and Lifestyle Coordinator at Cooper House aged care community, says staff got creative to make the day as special as possible.
"We coordinated all residents to be standing in the doorway of their room at 11am with confetti and music shakers, to say happy birthday as we wheeled Delys and Joyce through each of the halls," says Angela.
"We decorated Delys and Joyce's wheelchairs with balloons and birthday signs, so everyone knew what age they were turning. It was a lot of fun for all the residents, the hallway was filled with joy and laughter."
The whole event was live-streamed through My Wesley Connect app, an online community that connects family members with their loved one in aged care. As well as live streaming, it's a one-stop-shop with all the latest news and important information in one place, all at the fingertips of families who are often interstate. More importantly, My Wesley Connect has given our staff the platform to share the special moments that happen day-to-day in our communities in real-time.
"My Wesley Connect has really enhanced the way we communicate and share what residents are up to each day with their families. We post regularly through the app on the latest news and events that are happening at Cooper House. Residents are happy that their loved ones get to see what they are doing and the activities they are engaging in," says Angela.
"The developers of My Wesley Connect went above and beyond to make this live-stream happen for us, and it went perfectly."
Want to learn more about My Wesley Connect? Visit our webpage.