Dec 11, 2020
Judith - Kentish Court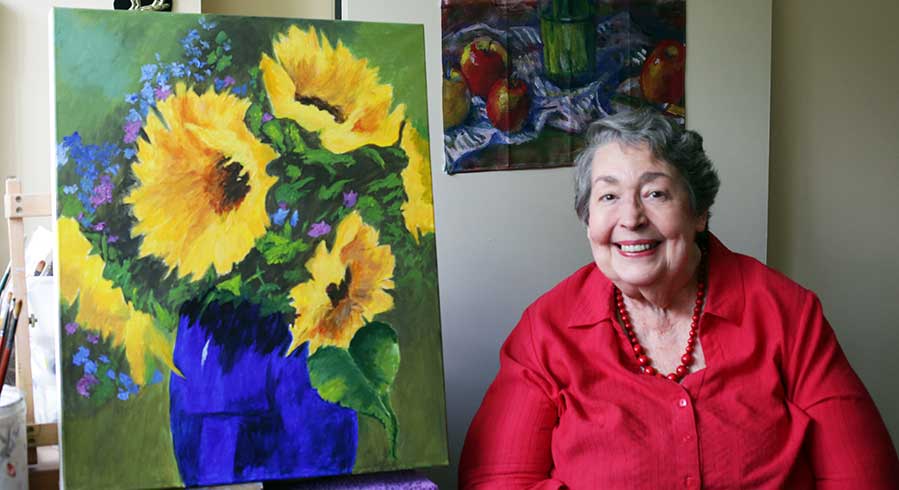 For Judith, moving into Kentish Court residential aged care community at Sinnamon Village was the obvious choice. The 81-year-old was already using Wesley Mission Queensland's Hydrotherapy Pool at the Fulton Wellbeing Centre twice a week at Sinnamon Village and lived nearby to the area. Now seven years on, you will find Judith painting beautiful artwork that is hung up around Sinnamon Village.
"I was supported by my daughter and son to move to Sinnamon Village, I also had friends who lived around here, so it was an obvious choice," says Judith.
Judith has an endless stream of hobbies, from her beautiful gift of painting, to puzzles, to her weekly Friday lunch with her daughter and family.
"We've had some fun get togethers with the community over the years. We had a 1920s themed cocktail party in the Club Lounge function room, which was just lovely. The staff put in a lot of effort to organise the event and we dressed up for it.
"We went to the ballet one year which was fantastic. The manager organised tickets for half a dozen of us who wanted to go. We each had a care worker with us and were looked after by the venue which was great," Judith says.
"The staff are wonderful here. They've been so supportive. When you are having issues with pain or you are sad, they're there for you and they're lovely. They seem to work well as a team and I can't speak highly enough of them."
For the last thirteen years, Judith has taken up her childhood passion of painting. Today, you will see Judith's artwork line the walls of the Sinnamon Village main reception area, as well as Kentish Court.
"I paint lots of different things and use different mediums. I used to sell in cafes in Brisbane, more recently though I sell my paintings here at Sinnamon Village. The paintings are hung up in the main reception areas and in Kentish Court. Families, residents and staff that pass through have purchased my artwork. It's really made me enjoy painting."
To learn more about life at Sinnamon Village in our residential aged care communities, visit our webpage.