Mar 29, 2023
ORCA Project creates Acknowledgement of Country videos for all to use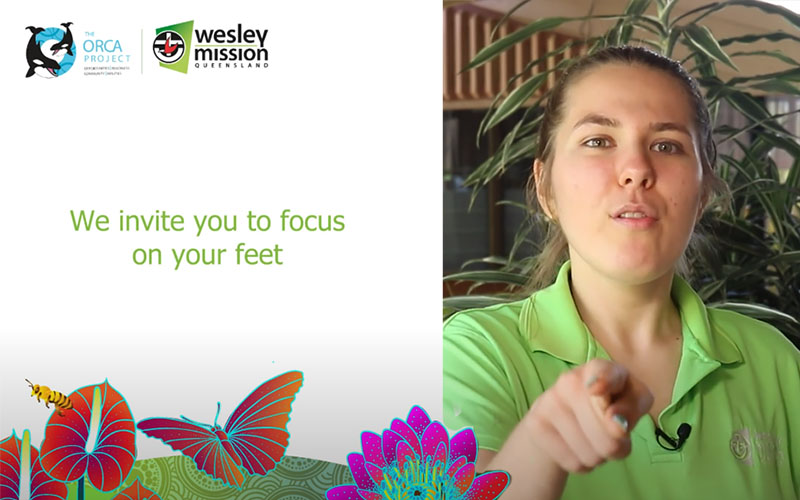 Wesley Mission Queensland is committed to taking practical steps to Reconciliation that visibly show our support of Aboriginal and Torres Strait Islander peoples and Elders.
As an organisation that works closely with and supports First Nations communities, Acknowledgement of Country is an important part of our everyday practice. It may be one small step towards Reconciliation, but it is an important one that honours the Traditional Custodians of the land and shows respect for their ongoing cultural practices.
Acknowledgement of Country videos
The ORCA Project team regularly demonstrates their respect for Aboriginal culture with an Acknowledgement of Country. The ORCA Project team acknowledge Country at their events, meetings, presentations as well as their daily Circle where participants lead the Acknowledgement.
ORCA Project Manager Alison Cox said the team could see the significance of creating their own Acknowledgement of Country with a distinct ORCA flavour, and so set about creating the videos below with the help of ORCA participants.
Alison has had a long history of friendship and connection with Aunty Jean Phillips and Brooke Prentis - two respected Aboriginal Christian Leaders. Aunty Jean is one of Australia's most senior Aboriginal Christian Leaders with more than 65 years of ministry leadership.
'Aunty Jean and Brooke have taught me for years about the significance of Acknowledgements of Country and the ongoing connection Traditional Custodians have to the land. Without their long-term friendship, these clips would not be what they are,' Alison said.
The videos have been endorsed by WMQ's Manager Reconciliation, Diversity and Inclusion and RAP committee for showing a deep level of cultural understanding and respect.
The ORCA Project, is a NDIS-approved School Leaver Employment Supports training program for people aged 17 - 21 years in Brisbane. ORCA includes Diversity and Inclusion training in a variety of ways through the workshops with participants and has a focus on learning, listening, understanding, journeying alongside and celebrating all people. Specifically, participants learn about why we acknowledge Country and what this means to Traditional Custodians and these videos are an extension of that learning and understanding.
The videos
The ORCA Project team has created two Acknowledgement of Country videos. We invite you to use these videos in whatever context or setting you feel appropriate. You can download the videos or embed them in your presentations, intranet, website, social media and any other channel you see fit.
60-second video
2-minute video (additional message)
The video encourages people to take in their surroundings and consider not only where they are, but also who they are with as they pay respects to traditional custodians and elders, and indeed all people.