Apr 25, 2023
A special Anzac Day celebration at Emmaus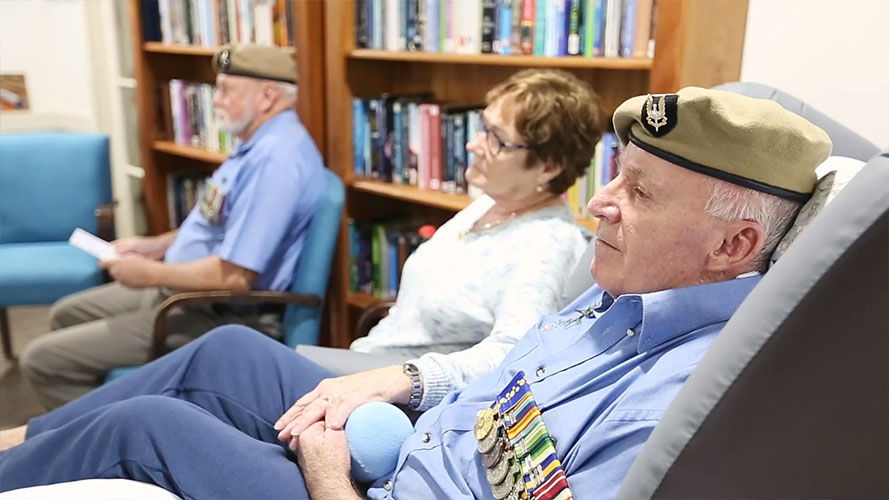 Staff pulled out all the stops to ensure one resident in particular would not miss his first Anzac Day service
2023 was set to be the very first year that Regimental Sergeant Major Allan Forsyth was unable to be physically present for an Anzac Day service, due to health concerns.
When staff from Emmaus Village where Allan lives got wind of this, they joined forces with a number of Australian Army personnel to uphold Allan's long-standing tradition and bring the Anzac Day service to him.

Download video transcript (PDF 135KB).
Regimental Sergeant Major Allan Forsyth is a highly respected veteran who served in the Australian Army for 33 years. He celebrated his 21st birthday on the front line in Vietnam, saw active service in East Timor, and rose to the rank of Regimental Sergeant Major in the Special Air Service regiment.
After retiring from the army, he co-founded a charitable organisation called "An Adventure Company," through which he guided tours of the Kokoda track 91 times!
Allan has guided several well-known groups and individuals, including the Hawthorn AFL, Brisbane Lions AFL and Brisbane Broncos NRL teams; the Sunrise team from Channel 7; Kevin Rudd and Joe Hockey. He even personally trained Therese Rein (wife of Kevin Rudd) before taking her for the ascent of Mount Kilimanjaro.
Allan has also conquered the Burma Railway track in Thailand and the Sandakan death March.
Allan is now a much-loved resident at Emmaus Villiage in Chermside where is he is visited frequently by buddies from his military travels as well as his wife Marnie.
Today we come together to commemorate and honour the bravery and sacrifices of Allan and all current and former servicemen and women, and to remember their stories that have contributed to shaping our nation's history.
Thank you to our amazing staff for helping to ensure our residents continue to celebrate and honour this day, which remains so important to so many of them.