Nov 1, 2021
Festive food bags bring a brighter Christmas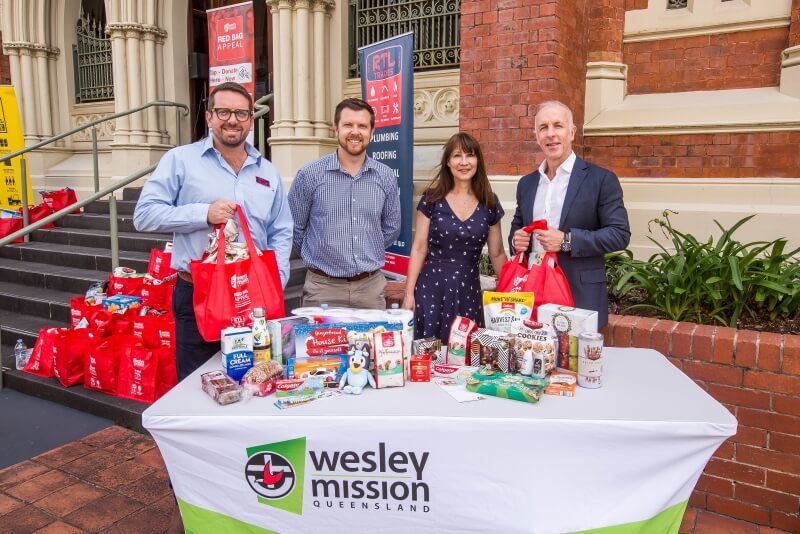 With more than 750,000 Queenslanders living in poverty and more than 250,000 living on Jobseeker or youth allowance payments, Wesley Mission Queensland (WMQ) has set out to distribute a quarter of a million dollars' worth of food relief leading up to Christmas.
WMQ has launched its annual Red Bag Appeal to deliver a some much-needed festive cheer to families doing it tough as a result of the COVID-19 pandemic.
WMQ Superintendent Minister Rev Peter Hobson said many families who were previously financially secure would be wondering how to put food on the table this Christmas.
"We believe demand is going to be stronger than ever, as so many people have been hit hard over the past two years during the pandemic," he said.
"We are asking anyone who's still doing ok to think of those who have been hit hard by this time of upheaval and heartache."
The appeal was officially launched on the steps of the Albert Street Uniting Church in the Brisbane CBD.
Rev Hobson urged people to fill a Red Bag with Christmas goodies.
"There are tens of thousands of residents who could never have imagined they would be in this position, but the pandemic has had a terrible impact on so many families' lives," he said.
"We can't underestimate the difference this simple act of filling a Red Bag with food will make to the lives of struggling families this Christmas.
"It's as simple as buying a bit extra at the supermarket and filling a Red Bag with all the things that make Christmas special."
Filled bags can be dropped off at any National Storage depot – the locations can be found at redbagappeal.org.au.
Alternatively, donations can be made online, with $50 covering the cost to fill a Red Bag.
The appeal runs from October 21 until November 27.
Get a Red Bag to fill or find out more at redbagappeal.org.au