Jun 11, 2020
Domino's supports local community service Brisbane Relief Hub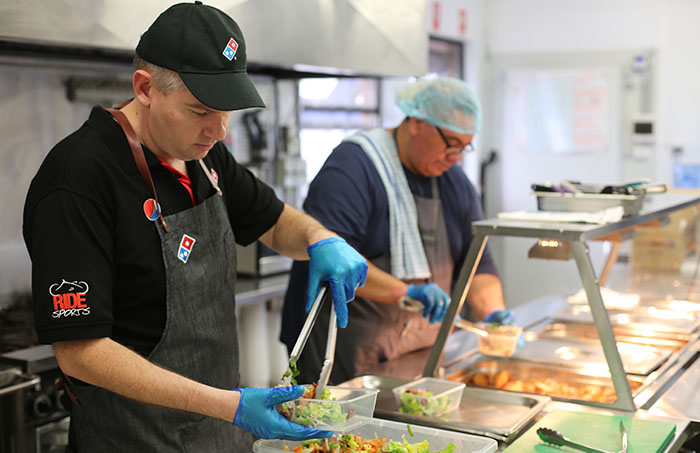 Each week, Brisbane Relief Hub's Wednesday night community meal feeds around 50-70 people. Last week, people in need were treated to a meal provided and cooked by Domino's Culinary Innovation & Development Chef for Australia and New Zealand, Michael Treacy.
Since the COVID-19 pandemic hit, Brisbane Relief Hub in the Fortitude Valley has continued running the community service to ensure people in need are still being supported. Moroni Pugh, Wesley Mission Queensland's Manager of Brisbane Relief Hub, says that although restrictions have eased in Queensland, Brisbane Relief Hub are still taking strict measures to ensure the safety of people visiting.
"Despite COVID-19, we are still running all of our services. We are open with face-to-face contact, but in ways that make it safe for everyone, including physical distancing, extra cleaning and restrictions on number of people," says Moroni.
"The community meals are still on Monday and Wednesday evenings and Sunday lunch; as well as Winter Soup Thursday and Tuesday BBQ. These are all provided in takeaway 'collect and go' containers.
"Domino's reached out to us to donate their time and food for one of our weekly community meals, it's great to have a large organisation such as Domino's helping out our team at Brisbane Relief Hub."
On the Wednesday night community meal, people enjoyed carrot and sweet potato soup, fresh salad and Domino's delicious buttermilk chicken and Choc Lava Cakes. Michael Treacy said it was great to be giving back to the Brisbane community.
"Domino's Australia and New Zealand headquarters started up in Brisbane, and we are still based in Brisbane today. We are always in search of organisations that we could assist and help out in the local community.
"Some of the team reached out to a few not-for-profit organisations, like yourselves, and that's really where the ball started rolling. We understand the meaning to give back isn't just in a cheque, but to give your time. Today we are providing some of our ingredients, skills and time to prepare and distribute to people in need of a hot meal.
"It's nice as a company to give back to others in the communities where Dominos operates. It's also great to get involved with frontline services, such as Emergency Relief Hub, and have the opportunity for personal development."
Brisbane Relief Hub are currently raising money for their Emergency Relief Appeal. Funds donated to the cause will be going towards community meals, cleaning supplies and staff wages. To find out more, visit our Emergency Relief Appeal website.