Top of page
Traineeships at WMQ
Jumpstart your career with an organization that empowers individuals and nurtures communities.

A Traineeship is a unique blend of formal learning and hands-on work experience that allows participants to develop essential skills, gain industry-specific knowledge, and secure a nationally recognized qualification, all while contributing to the diverse and compassionate mission of Wesley Mission Queensland.
What makes our Traineeships different
We don't just want you to tick a box in your career; we want to see you grow, take on new responsibilities, and develop a fulfilling career. Embark on this journey with us and together, let's create a better tomorrow.
Your personal development is our number one priority
As a trainee, you will become a vital part of our service. We embrace the opportunity to help you to learn and develop your career aspirations in a safe and friendly environment.
In this video, we caught up with School-Based Aged Care Trainees, Lisa and Ava to talk about what the opportunity means to them ahead of leaving high school and embarking on their chosen career paths.
0:00 [Lisa, Residencial Aged care School-based Trainee]
As a new trainee what I'm looking forward to the most is probably being able to bring joy to people and make them feel loved.

0:09 [Ava, Residencial Aged care School-based Trainee]
Being a trainee the thing that I'm looking forward to the most is probably working with the residents and gaining friendships with them, and also the opportunities that come out of this.

0:20 [Lisa]
My favourite part of being a trainee at the moment has been um meeting new people and learning about people's lives and being able to see how the elderly people, how they live their lives and how much I could learn. By the end of this, I hope to have a Certificate 3 in Health Support Services and one day I would love to go to UNI and study to be a registered nurse and I'd love to be a rural nurse one day.

0:48 [Ava]
I've definitely always wanted to be a paramedic. This Certificate 3 is definitely really good for what I want to do because it's like a head start to the career that I really want.

0:58 [Lisa]
I definitely recommend this if you want to do a healthcare pathway and if you're not doing atar you'll still be able to get into University with this.

Benefits of our traineeship programs
Our Traineeship programs provide a range of benefits including:

Career head start

Assist with transition from school to work

Study a nationally recognised qualification

Hands-on learning environment

Gain credit points towards ATAR score

Earn and learn on the job while getting paid

Receive WMQ employee benefits

WMQ employment opportunities once studies completed

Traineeship programs are held in designated WMQ health hubs across South East QLD:
Brisbane Eastern Suburbs

Brisbane Inner Suburbs

Brisbane Northern Suburbs

Brisbane Southern Suburbs

Brisbane Western Suburbs

K'gari (Fraser Island)
Gold Coast
Gympie

Ipswich

Logan

Moreton Bay

Scenic Rim

Sunshine Coast

School-based Traineeships for Year 11 Students


Part-time Traineeship Program

Care Worker - Trainee employment
Certificate III in Individual Support

Are you a caring and dedicated individual? Interested in a career in the Care Sector? Able to undertake study to upskill your knowledge?
View brochure (PDF 352KB)
Contact us today!
Full-time Traineeship Program
Available Apprenticeships
Eden Alternative™ - our care philosophy
Wesley Mission Queensland is the only aged care provider in Queensland with Eden fully registered aged care communities. The Eden Alternative™ philosophy of care is not a medical model of care – it's a innovative way of thinking about aged care works to promote loving companionship, empowerment and spontaneity.
Every day our team of dedicated nursing and clinical staff, leisure and lifestyle coordinators, allied health professionals and chefs, all work together to provide a person-centred care environment. Whether it's listening to a memorable song in the lounge room or recreating a special meal for a resident, our team aims to make each day a good day.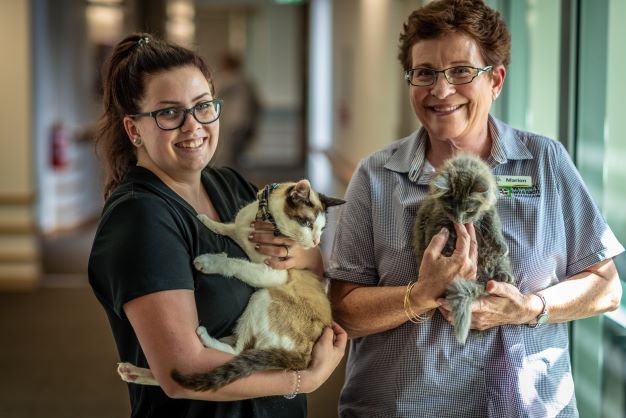 Whether it's listening to a memorable song in the lounge room or recreating a special meal for a resident, our team aims to make each day a good day.
Contact WMQ's Traineeships team via the form below to register your interest in future opportunities.
For any other enquiries, please email [email protected].
Thank you for filling out our form.