Top of page
Internships and Student Placements
Jumpstart your career with an organization that empowers individuals and nurtures communities, all while fostering a culture of compassion and growth. We offer internship opportunities in a range of disciplines and professions:

Aged care personal carers
Disability support workers
Social workers
Nurses
Physiotherapists
Mental health therapists
Occupational therapists
And more
Intern position with our People and Culture team!
Make a positive contribution to the community by conducting structured activities, project work or research within WMQ People and Culture team. We will place you in a role that aligns with your area of interest and also business requirements.
Internship with WMQ's People and Culture team (unpaid)
Student must have relevant undergraduate or postgraduate qualification or working towards
Fixed term, 1 day per week for 3 months
Make a real impact on our community
Our internships and student placement programs are a wonderful way to engage in hands-on learning experiences, make a real impact on our community, and connect with dedicated professionals in and around Brisbane.
Your personal development is our number one priority
As a student on placement or internship, you will become a vital part of our service. We embrace the opportunity to help you to learn and develop your career aspirations in a safe and friendly environment.
BENEFITS
Our internships and student placements provide a range of benefits including:
allowing students access to work and learning opportunities where they can demonstrate their skill development and knowledge
developing workplace communication capabilities
building professional networks and relationships
potential transition to work and future career opportunities in a growth sector
being part of a team that really is making a difference in the lives of people in our local community
meeting new people.

Placement partners and requests
See below some of the Registered Training Organisations (RTOs) and Universities we partner with. Demand for these placements is always high, therefore requests will be accommodated based WMQ's needs and our capacity at the time. Priority is given to students studying with our RTO and university partners.
If you are studying with another RTO, or if you are an RTO looking to work with us, please contact us via the webform below.
Universities
University of Queensland
Australian Catholic University
Griffith University
Sunshine Coast University
Queensland University of Technology
Southern Cross University
Edith Cowan University
University of Southern Queensland
Student placement programs are held in designated WMQ health hubs across South East QLD:
Brisbane Northern Suburbs

Logan

Moreton Bay

Fraser island

Brisbane Southern Suburbs

Ipswitch

Gold Coast
Brisbane Inner Suburbs

Sunshine Coast

Brisbane Western Suburbs

Brisbane Eastern Suburbs

Scenic Rim

Gympie
What makes our placements different
We don't just want you to tick a box in your career; we want to see you grow, take on new responsibilities, and develop a fulfilling career. Embark on this journey with us and together, let's create a better tomorrow.
Eden AlternativeTM - our care philosophy
Wesley Mission Queensland is the only aged care provider in Queensland with Eden fully registered aged care communities. The Eden AlternativeTM philosophy of care is not a medical model of care - it's an innovative way of thinking about aged care, promoting loving companionship, empowerment and spontaneity.
Every day our team of dedicated nursing and clinical staff, leisure and lifestyle coordinators, allied health professionals and chefs, all work together to provide a person-centred care environment. Whether it's listening to a memorable song in the lounge room or recreating a special meal for a resident, our team aims to make each day a good day.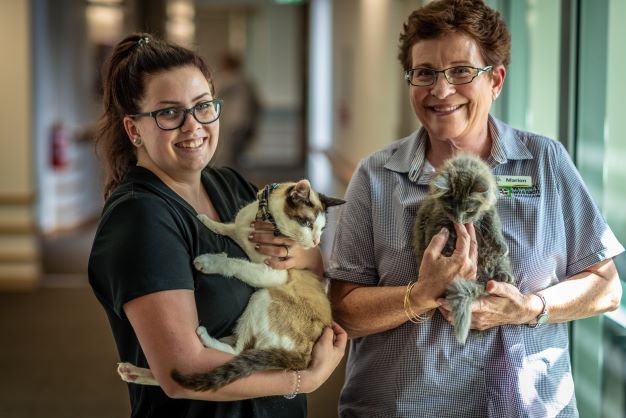 Whether it's listening to a memorable song in the lounge room or recreating a special meal for a resident, our team aims to make each day a good day.
Contact the Internships and Student Placements team via the form below to register your interest in future placements.
For any other enquiries, please email [email protected].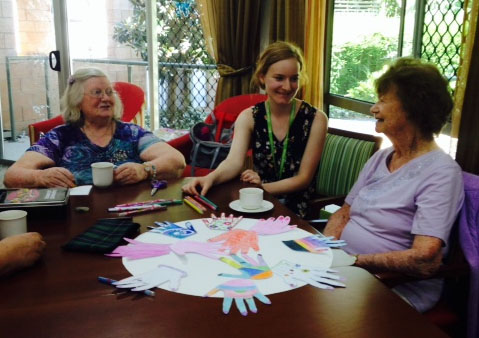 Art class at Anam Cara community, held by Emma, an art student from Griffith University.