Top of page
Albert Street Uniting Church
The Albert Street Uniting Church congregation sits in the heart of Brisbane's CBD and is the spiritual home of Wesley Mission Queensland. Through worship, witness and service, the congregation continues its proud legacy of expressing the 'good news' that God continues to transform the world, bringing healing and justice for all people.
Albert Street Church website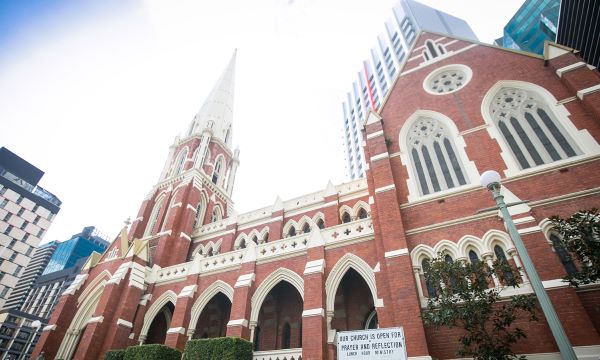 A welcoming community of Christ
The church is committed to being a welcoming community of Christ - building faith and compassionately serving in mission with integrity and openness. Since its first acts of compassion and kindness in 1847, the Albert Street congregation has been a vital presence in the Brisbane CBD, particularly among those who have found themselves in need or on the margins of society.
Wesley Mission Queensland is the community services division of Albert Street Uniting Church. It was established in 1907 when affiliated with the Methodist Church (Methodist Central Mission). We are committed to addressing the issues facing our community and offering services that see the person as a whole being created in the image of a loving God.
Visit the Albert Street Church community during Open Church, Wednesday and Friday 10am to 2pm or during one of our Sunday worship services. Follow us on
Facebook
or
Pinterest
to get up-to-date news on our events and activities or visit the
Albert St Uniting Church website
(links open in new window).
Join the Albert Street Uniting Church congregation at 9am on Sundays for a family friendly, traditional worship service. Children are invited to join in with the Sunday School activities. Alternatively, there are activity sheets for the children to do while sitting with you. Following the service, you are welcomed for morning tea and fellowship.
In addition to regular worship services, Albert Street Uniting Church provides baptismal, wedding and funeral services.
Baptisms
Contact Albert Street Uniting Church to meet the Minister and book a baptism for your child. Baptisms are conducted regularly.
Baptisms (opens in new window)
Weddings
The pipe organ, century-old stained glass and unique architecture of this heritage-listed church create the perfect atmosphere for your wedding.
Weddings (opens in new window)
Funerals
A funeral is a time to honour and give thanks for a life. The caring team at Albert Street Uniting Church can support you during your time of grief.
Services (opens in new window)
600 people
in need
receive a free meal, sandwich or food parcel each week.
More than
90
young adults call our supported accommodation units home.
3,500
seniors
supported to lead a fulfilling and independent life.
More than
530
retirees reside in our award-winning independent retirement villages.
More than
1,000
adults and children received youth and parenting support.

Your story is our story
Wesley Mission Queensland. Helping Queenslanders live better lives since 1907.