Top of page
Allied health and nursing services
In-home support from dietitians to physiotherapists, to support from our qualified nurses.
We are an approved home care provider with over 20 years of experience and a commitment to quality care. We'll listen and find out what's important to you to ensure we do things to your liking.
Contact us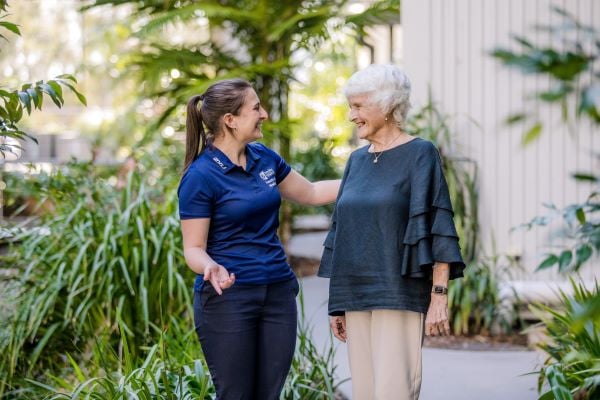 One place for all your health and wellbeing needs. Physiotherapy, occupational therapy, dietetics, podiatry, speech pathology, exercise physiology, remedial massage, and nursing. We can help ensure you eat well, stay physically and mentally fit and feel confident in the community and living independently at home.
We've an experienced and qualified team of allied health professionals who can:
Assess your needs and goals
Provide specialist advice and treatment
Recommend assistive technology, mobility equipment and aids.
Get in-home support from our qualified nurses. They can help manage ongoing health conditions, or assist your recovery after an injury or medical procedure. We can help with things like:
Wound care
Compression bandaging
Medication management
Assistance with continence
Diabetes care
Post-operative care
Pain management
Clinical services such as hearing and vision.
"WMQ have a long history of supporting people. We take responsibility for the services we organise and provide, and we make sure our front-line workers are passionate about the important work they do."
Jeljo
Care Leader, In Home Care
We provide or arrange this service throughout south east Queensland. Depending on the funding we are allocated at different times, our ability to offer services in different locations varies.
Ask Wesley Mission Queensland which services are available in your area.
We'll talk you through all the costs and fees before your services begin.
You can access these services under your Home Care Package funding, or with CHSP funding and an appropriate referral. You can also pay privately for any of these services.
Learn more
You'll find us throughout south east Queensland. The services available can vary based on where you live and on the type of government funding you are accessing.
Day to day housekeeping
Name :
Day to day housekeeping
Description :
Help with the housework, laundry and shopping.
Page anchor :
domestic assistance
Regions
Home care that works for you
Thank you for filling out our form.