Top of page
Marcus Mission is all about men supporting men in Queensland. Men are invited to experience the benefits of a network of community-minded men supporting each other. Whether you're seeking support or interested in building skills and confidence to help your mates and your community, this program could be for you.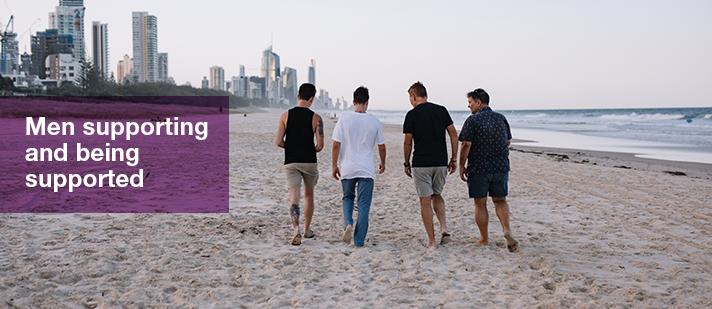 How can you get involved with Marcus Mission?

Become part of our Peer Mentor Network
Make a difference by helping your mates and your community.

Come along and check out a workshop
We run resilience-building workshops in a number of areas across Queensland. Come for a chat (and often a free BBQ!), learn skills to help your mates get through challenges while achieving personal growth.
Mentor Network Registration
No cost to you
There is no out of pocket cost for this program. Marcus Mission relies on the generous donations of people like you. Please consider donating and helping men in need.
Donate today
Support for men experiencing challenges
Hi, I'm Glen Wallwork of Marcus Mission, which is a program of Wesley Mission Queensland, that was designed to reduce the risk of suicide for men in Queensland. And how we've gone about that, is with a program, specifically designed, to build the confidence and skills of men to reach out to support and help other men. Unfortunately, about 12 men each week are lost to suicide in Queensland, but we've got a program that's making a difference in communities where it's being rolled out. So, some options to get involved in the program, include coming along to resilience building workshops as a participant, where you might gain some skills and confidence to better manage your own lives as well as most importantly, to be able to reach out to your mates that might be going through some tough times. So we have a program that enables people to be empowered with those skills and tools that they can use to help their mates, when they're going through a tough time. We know there's lots of guys doing great work to support people in the community, and we wanna work with those fellas, as well as the guys that are doing it a bit tough, to help everyone have the skills to better manage their lives and to reach out and support each other.
[Man 1] - So I was doing a bit of study and I heard from the teacher that there was a community group going. I might be able to get my work experience through there but it's become something different. It's become engaging in the community. And well, I've seen a counsellor before and that's just a little one on one, I suppose. And it engages, I guess, on an individual level but you don't really get that feedback of what's going on in the community and what's going on in other people's heads because not only are you getting support but you're supporting other people, and that feeling is priceless.
[Man 2] - To be honest, there's lots of things that have happened throughout my life, that I can say have been pretty impactful on my emotional side of stuff, and my wellbeing. There's been a number of different things throughout the years where I've gone to that really dark place.
[Man 3] - I've had some hardships in life. I've had a severe back operation. I was in the mines for 25 years and went through a separation, mental health, and I fell very hard. And I was in a really unfortunate situation, and through spending time with men that care and they're available and listen, and they acknowledge, and I learned the whole new dialogue of communication that I hadn't heard before. And through that, it helped me get back on the blocks and it helped me become the man that I am today.
[Man 2] - I know when I originally went looking for support and things, I found it really hard to find anything particularly just for men. Lots of stuff out there for women and just general things and all, but very, very limited for men. So once this came up, I just found it was an absolute must for me to be involved in. There's a lot of men that suffer from some very hard times and dark times and struggle to find the support that's required.
[Man 4] - They just knew I was struggling and they saw me struggling and they just connected and they just hung around and didn't really give me advice. Didn't tell me what to do. Just were there. And I just lent on them when I needed to.
[Man 3] - So I've actually really enjoyed it. I've been doing the training, I'm mentoring a man now. And what I like about this particular program, different to others, it's very well set up. It's very well supported. It's very well documented. Everything's just, can I say it's cutting edge.
[Man 2] - Well, what's more confronting? Living with that pain and angst of everything that goes on through life, or finding out how to deal with life, how to work through those situations, find the solutions, build the connections, build some resilience and just find out that there's a better way of doing life. And certainly Marcus Mission has offered me a lot of insight into different ways of dealing with situations. It's given me a lot of education and I'm very, very thankful that I'm in a position now to be comfortable enough to be able to support other men.
[Man 1] - I think this is a right step in the right direction. Sometimes I'll have two steps back, one step forward. This definitely seems like steps in the right direction. You'd be surprised at what comes out in these groups, even if it's just a one liner, it can resonate with you. Even if it's for a few seconds, you get to talk to a bunch of guys that can relate to you, and it's a good feeling.
[Man 4] - I started that for my own journey, to build some resilience myself and then just fell from there, straight into mentoring 'cause I could see the value in it for other people.
[Man 1] - I see the the benefit of actually supporting someone else.
[Man 3] - I've had some experience and I feel that I've got what it takes to share with them, but also, through the program, I've got extra support
[Man 2] - Without a doubt, the mentoring side of the program, and things like that with me, I've already connected with a number of different men in the society, out there doing things a bit tough and do them on a regular weekly catch up, just to have a chat, find out what's going on with them, help them work through the little issues, day by day. Just start off a little bit at a time, instead of the big overwhelming picture that we can get consumed in very easily. And this will certainly be something that I'll be heavily involved in for quite a few years yet to come.
[Man 4] - It's rewarding to take a step knowing that you're gonna help someone else. I'm a quite a relational person and I've established some really good relationships from this, some really good connections with a couple of guys. So for me, I've got everything plus more out of it already.
[Man 3] - I'm at that stage now where I'm in a position where I can, I feel that I can give back.
<[Man 4] - If it speaks to you, and it's on your heart, then get involved because it's extremely rewarding. You get so much out of it, being able to just be there for someone.
Marcus Mission Peer Mentors are everyday blokes who want to make a difference in the lives of others.
Some mentors have life experiences such as relationship challenges, periods of health or financial stress, mental health concerns or suicidal experiences, but are now in a good place to give back and support other men.
Through the MENtor networks, men are able to get support when experiencing situational distress, such as issues with relationships, work or money.
Get in touch if you think you would benefit from connecting with one of our mentors.
Become a mentor
Do you have something to offer other men? We have volunteer positions available for Mentors and Mentor Area Coordinators. (Link opens in new window).
Become a mentor
Bundaberg man Marcus Roberts was 23 when he took his own life in 2014 while battling with depression.
In their grief, Marcus' family was determined to change the statistics around men dying by suicide and approached Wesley Mission Queensland with their whole-of-community idea to offer support to men. Marcus Mission helps other men, with the same care and kindness that Marcus showed to others.
Marcus Mission relies on the generous donations of people like you. Please consider donating to this program and helping men in need.
Donate to Marcus Mission
Learn skills
Help yourself and your mates.
We run resilience building workshops with a social component across South East Queensland. Come for a chat (and often a free BBQ!) and to learn some skills to cope with life's challenges.
See all events
Are you a service provider?
Informal and genuine connections are at the essence of Marcus Mission MENtoring.
Give us a call to have a chat when you are with the man being referred, to help the man feel more at ease.
Contact us
This is not a crisis service
It takes a community to reduce the risk of suicide
Marcus Mission is seeking motivated, community-minded people to support this initiative. Attend a workshop, become a mentor or consider making a donation today. Call us on
0419 750 607
or contact us online.
Enquire about Marcus Mission today