Mar 6, 2020
Inspiring resident shares her story for International Women's Day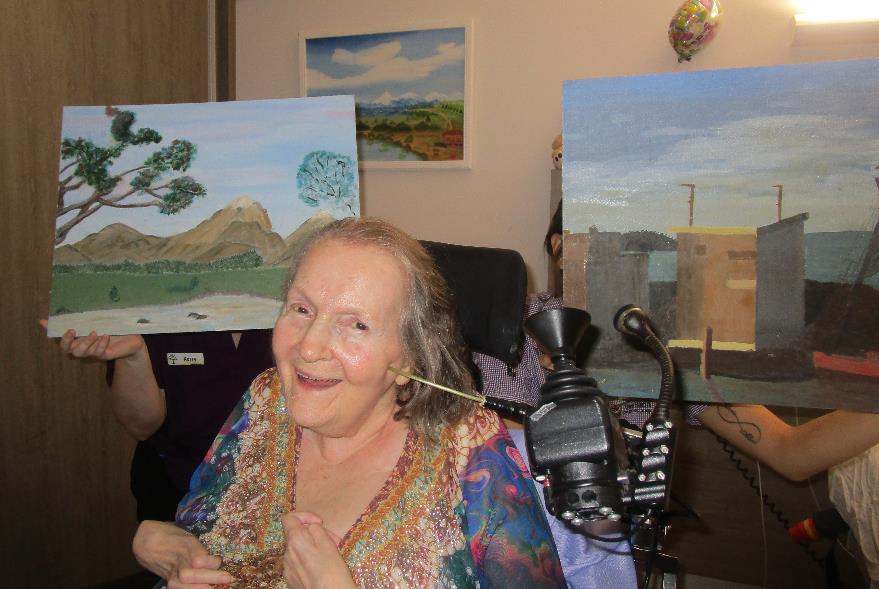 International Women's Day is a day to recognise, reflect and celebrate women's achievements. It's also a day to raise awareness and act now for equality. A story that truly represents what the day stands for is Cheryl Patchett, an inspiring woman who shows us that we can do anything we put our minds to. Her story is an example of rising above the negatives and taking on challenges, pushing forward to a positive and equal future.
Sixty-nine year old Cheryl Patchett has been a resident at our Dovetree residential aged care community for three years. Cheryl became a quadriplegic when she was just 17 years old in 1968 from a shooting incident. It's been a challenge and a battle over the last fifty-two years, however Cheryl is still smiling and finds beauty every day in life.
Cheryl grew up in the Rockhampton region. She left school at the age of 14 and was ready to go out into the world and work. Before the incident Cheryl was working as a carer for a woman who lost both her legs from diabetes. "I'm the type of person that goes with the flow quite easily. I'm Christian and that helps a lot. I have faith in God" says Cheryl.
"They couldn't give me the care I needed for the spinal injury in north Queensland. It was an incomplete spinal injury and I needed to move to Brisbane for therapy and to get myself mobile again and back into society."
Getting herself back into society was exactly what Cheryl did. Cheryl mastered the sip and puff wheelchair system within an hour of being shown how to do it.
"The doctors said it would take about six months to understand and perform. Within 45 minutes, I had got it. They were standing there gob-smacked. The key to it was to think of it like you were dancing, and to me that was natural. I did ballroom dancing as a teenager, so it came to me easily."
"I lived by myself for nine years, before coming to Dovetree. I would have carers' come to my place throughout the day, usually in the morning, lunch and dinner. It was quite a challenge, but I love a challenge" says Cheryl.
Cheryl fills her days with painting, a further example of inspirational living. How does she paint you may wonder? Well, she has taught herself, by using her mouth to guide a paintbrush. Through this perseverance she can create beautiful landscapes, all from her imagination.
"I love art. It's a gift from God. I always look at the canvas afterwards in wonder. I stay true to myself and will often go off my imagination and what I'm feeling."
Since Cheryl has been a resident at Dovetree she has gone on a cruise to Vanuatu. Her aspiration for adventure and life is infectious.
Cheryl's message for women this International Women's Day is to "Be yourself. Don't look to any one person. Draw on your own strengths and find your inner self."
To read more inspirational stories from residents at Wesley Mission Queensland's services and communities, please visit our News webpage.