Feb 2, 2021
A place to call home - WesleyCare Wynnum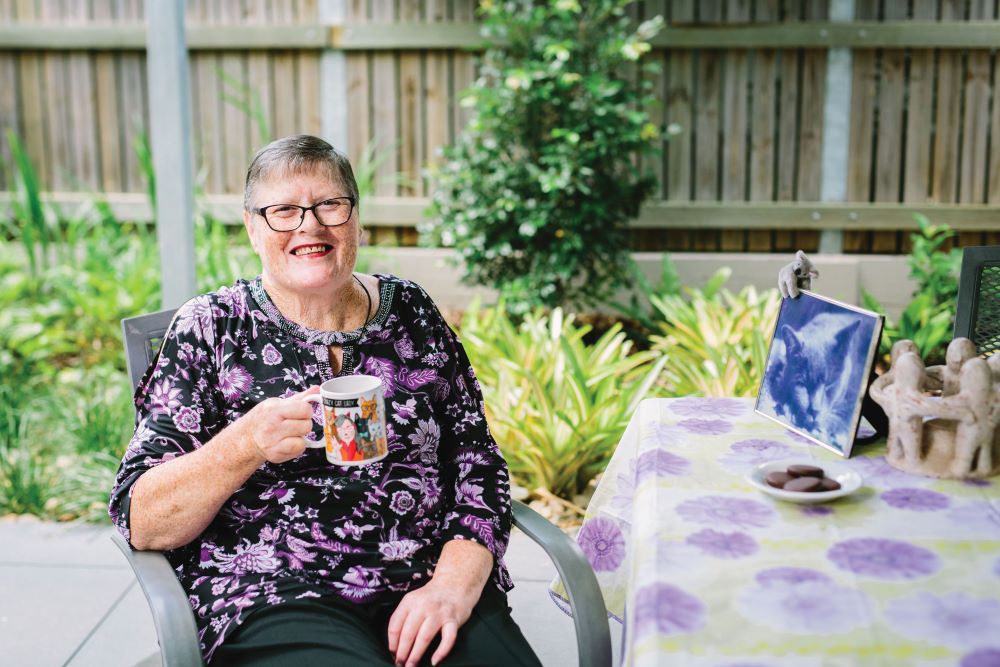 At 57 years of age, Oakey resident Jackie Rogers suffered a stroke during open heart surgery and went from living an independent life at home with her family and pets to living in an aged care community.
"I was told I'd never be able to live in my home alone again and look after myself. It was really hard. Overnight I lost my home, my possessions, my community and the hardest part – my independence. I had the clinical care and support that I needed in the aged care homes I lived in, but I was in a share-room and at 57 it's not the right home for younger people living with disability.
"For many years I felt thrown on the scrap heap and was very depressed. That was hard for me as I'd spent 28 years working as a mental health nurse and assisting people with their depression. The universe had come full circle and I was struggling, right up until I moved here.
"I kept fighting for myself and when the opportunity came to take one of the new apartments at WesleyCare Wynnum, I was so excited. It's been a dream come true. I feel so happy," says Jackie.
WesleyCare Wynnum is one of Wesley Mission QLD's specialist disability community built in 2020. There are five apartments at the complex in total, with each apartment being fully self-contained and furnished. Onsite are our staff including the Manager, Registered Nurses, Enrolled Nurses, Clinical Nurse Consultant, Disability Support Workers, Community Access Facilitator, Chef and Allied Health Assistant.
"I have my own home again, my own front door and key. I've been able to get some of my special possessions from my old house and decorate the apartment. My family can come and visit me whenever they can, anytime of the day or night, just like it's my own home in the community.
"It's the simple things I love being able to do again, like cooking a meal and washing up in my own kitchen and sleeping in, the things we take for granted every day.
"I've got a new rescue cat, Sophie, who I adore. I've started going shopping on my own again. I can have help from staff when I need it, but they aren't here all the time checking on me. I can buzz and get help with hanging out the washing or cooking. I have freedom and independence again, but I feel so supported at the same time - I am so grateful. I have learnt that it is OK to accept help.
"For people living with a disability, it's not just about making sure we have the clinical care and support to stay healthy and safe, it's about being able to live like everyone else – in our own home, with choices about what we do in a day. With support we have hope for the future."
To find out more about our Specialist Disability Communities, visit our webpage.