Jun 16, 2022
You've got a friend in me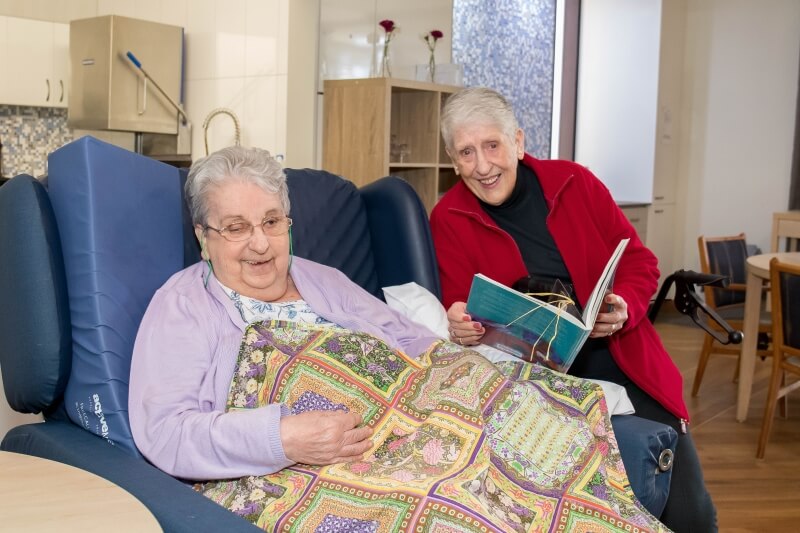 Sometimes an unexpected friendship turns out to be the thing that sustains you.
Friendships play an important role at all stages of life and studies have found them to be critical for a healthy aging process. It has even been suggested that social contact is more beneficial than physical exercise and healthy habits (not smoking, weight management) for health and longevity.
Carrie and Fay are residents at John Wesley Gardens aged care community and have formed a very special friendship, which has evolved to include Carrie reading to Fay every afternoon.
'We support each other through board games, socialising at meal times and in social groups, by celebrating special occasions and by reading to each other,' Carrie said.
'We just have a lot of laughs and the more you laugh, the sillier it gets'.
While both women say they never thought about making good friends when moving into aged care, they agree that friendships are very important with Fay adding that it 'keeps you young'.
Carrie has even been invited to Fay's family Christmas celebration which she described as 'very special'.
Moving into an aged care home can feel daunting to some, but the chance to make new and meaningful connections is something that is nurtured and encouraged at all Wesley Mission Queensland residential aged care homes.
Activities are designed to engage and stimulate and create opportunities for friendships to be forged across mutual interests. This aligns with the Eden AlternativeTM Philosophy of Care, a model followed Wesley Mission Queensland staff that aims to combat loneliness and boredom to create joyful, spontaneous experiences.