Aug 12, 2020
Seniors Week 2020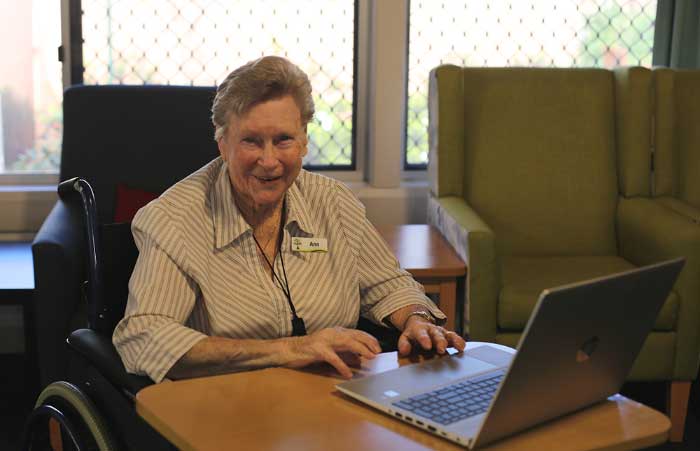 Challenging the stereotype and always learning. That's what 81-year-old Ann Swain from St Mark's residential aged care community is doing. To mark the 60-year milestone of celebrating Seniors Week, we spoke with the inspirational Ann, who has hit the books and embarked on an online course in Understanding Dementia at the University of Tasmania (UTAS).
Ann has been a resident at the Wesley Mission Queensland St Mark's aged care community since August 2019. While she initially found the adjustment of going into residential aged care challenging, she now embraces the activities, friendships and companionship of pets.
All our aged care communities are dementia-friendly and are home to people with low and high care needs. When Leisure and Lifestyle Coordinator, Nicole Whatson, mentioned to Ann that UTAS offers a free online course on understanding dementia, Ann was eager to get involved.
"Nicole asked whether I would be interested in the course, and I said yes. Towards the end of my husband's life he had dementia, so I have been through it and wanted to learn more about it," says Ann.
"It's giving me skills to understand and communicate with the people around me. There are a few people here that live with dementia and I think it's useful to learn more about it. At times it can be difficult for the person experiencing dementia, but if you can talk and communicate to them appropriately it can ease their mind. It's all about compassion."
The free online course goes for seven weeks and each week Ann sets aside some time to watch the lecture on a laptop, study and complete the test.
"I left school at age 15. I'm not medical, so I ask Nicole to help explain to me some of the terms. I've already learnt so much. You are never too old to learn."
"It's been nice getting into studying while things are still a little bit quiet. I've certainly kept myself busy with reading and now that volunteers and pets have returned there's lots of activities happening," says Ann.
Seniors Week 2020 gives Queenslanders the opportunity to learn from older people and work with the Queensland Government's and Council on the Ageing (COTA) vision of building Age-friendly communities in Queensland. People like Ann are an inspiration to our community and we extend our acknowledgement and celebration to all the seniors in Australia.
To learn more about our residential aged care communities, visit our webpage.