Nov 2, 2021
It pays to be green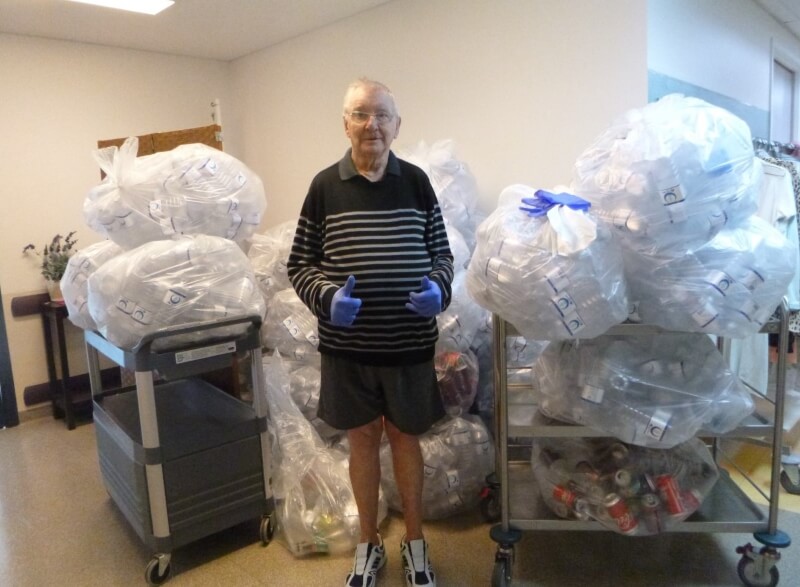 Parkview resident Barry Norton's passion for the environment has been contagious – and brought in thousands of dollars for his home in the process.
Barry has been a dedicated recycler for a long time, so when the Containers for Change program launched it was a logical step to be rewarded for his good deeds.
He began collecting bottles in Glasshouse in 2019 and soon his fellow residents joined him collecting bottles and cans that could be exchanged for cash under the Containers for Change program.
Taking a truly team approach, residents worked with the Parkview bus driver and staff to establish a routine for collection and delivery to the recycling depot. Barry would help stack the bottles to be counted; he was presented with an Environmental Champion Award to celebrate his work.
Unfortunately, as Barry's health began to deteriorate he was no longer able to collect bottles. However, he remains passionate about the program and in a lovely legacy has passed the baton to fellow Parkview resident, Harry.
Harry is another enthusiastic collector and meets Parkview Leisure and Lifestyle Coordinator Kay Scott a couple of times a week at 7am to collect the bottles from all around the building.
Kay said it was wonderful to see the residents getting behind the project to work to a common goal.
"We try to encourage and expand on all our resident's interests. It's so important they continue to be engaged in activities that really mean something to them".
This initiative is a wonderful example of putting the Eden Alternative Philosophy of Care into action. Touching on the domains of identity, connectedness, meaning and joy, the project has helped address the three challenges Eden seeks to overcome - loneliness, helplessness, and boredom.
The funds have contributed to numerous projects for the residents, including the ice cream bike that was built during COVID lockdown and improving garden beds around the home.