Oct 1, 2020
Families reunited with aged care residents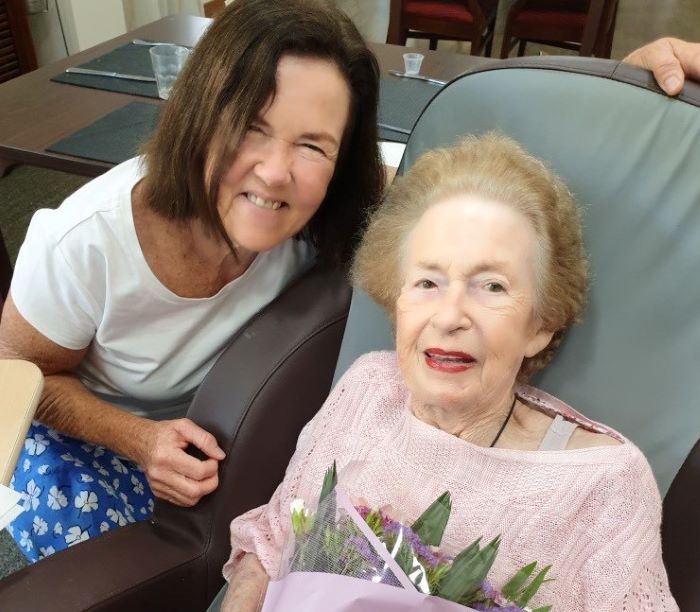 Once again, residents and their loved ones can come together to celebrate milestone birthdays, see new born grand children or just catch up for a good old cup of tea.
On Friday 25 September Wesley Mission Queensland's aged care communities reopened to visitors after almost five weeks of lockdown. During August the QLD Chief Health Officer made the decision to stop all visitor access to South East Queensland residential aged care communities, and staff were instructed to wear surgical masks at all times. Last Friday these restrictions were lifted as Queensland hadn't had any community transmission for 14 days.
This week, our aged care communities had a certain buzz about them as families and residents were reunited once again. There were smiles, a few tears, but most of all a lot of love to be felt and shared.
Janice, resident at Anam Cara aged care community, and her daughter Vicki were one of those families that enjoyed being together again and celebrated the special occasion.
"We felt really happy to be back at Anam Cara. The staff have been and are very accommodating and during the visitor restrictions we felt comfortable and assured that Mum was being looked after," says Vicki.
"Mum was as calm and happy as can be. She said, 'great to see you again' ha-ha. We brought her flowers and we celebrated being able to be back with her and to let her know we are still there for her.
"During the visitor restrictions the manager, Silvia, said we could visit Mum through her glass window. So, we would often do that and drop her off some flowers and chocolate. That kept us in touch and let her know we were thinking of her and we are here when she needs.
"We have been very happy with the support and care at Anam Cara. The staff are very approachable people, hard workers and most of all are full of kindness," says Vicki.
Staff have been overwhelmed by the support and gratitude from families, with families bringing in gift hampers and flowers for the staff.

Dedicated staff assisted with keeping families and residents connected through video call, written letters and messaging during the restrictions. As well as the enthusiastic effort of keeping our residents entertained with lots of fun activities. Most importantly, staff have kept residents safe through recording on sign in sheets, temperature checks, sanitise stations, full PPE on standby and an organisation wide practice training simulation of a COVID-19 case.
We extend a warm welcome back to visitors in our aged care communities and appreciate the understanding and patience during the state-wide aged care lockdown.
To learn more about our aged care communities, visit our webpage.