Feb 8, 2021
A day in the life of a workplace coach in residential aged care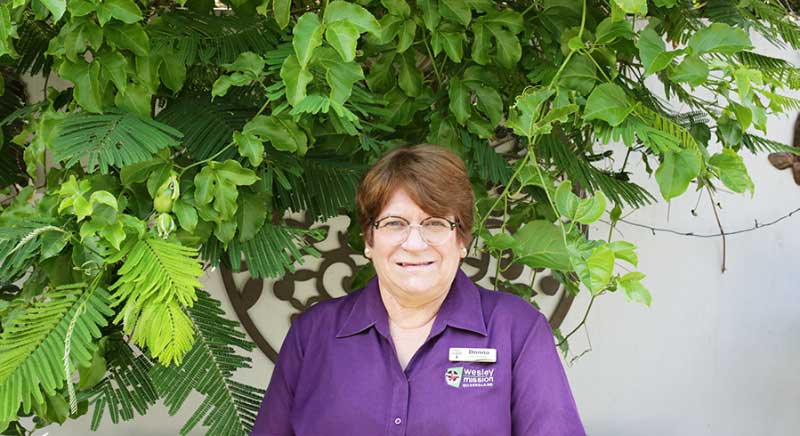 Meet Donna, an Enrolled Nurse and a Workplace Coach for Wesley Mission QLD's (WMQ) Kentish Court aged care community within Sinnamon Village at Sinnamon Park. For almost 20 years Donna has been working for WMQ, with the two-decade anniversary coming up in September.
Throughout the years Donna has worked at several aged care communities at Sinnamon Village. The last 10 years have been spent at Kentish Court, with 5 of those years working fulltime as a Workplace Coach and Enrolled Nurse.
A Workplace Coach is a unique role in WMQ's residential aged care communities. They are responsible for the orientation of new staff, education and training, as well as providing opportunities for staff who wish to grow their skill set. Workplace Coach's also manage and implement the Eden Alternative – our philosophy of care - with a strong focus on residents having their say.
"What my week looks like as a Workplace Coach is managing the online training for staff and making sure they are completed before the deadline. I run our in-house education, orientation for new staff and I am a Manual Handling Facilitator and a Qualified Mental Health First Aid Officer," says Donna.
"The Eden Alternative is our Philosophy of Care. I implement positive changes to become accredited in the 10 Principles of Eden. We currently have two Principles registered and have submitted another 4 Principles to become accredited.
"It's a great model to follow and it really helps everyone here in the community. People really enjoy being outside in the beautiful pleasant areas and in the garden. They can spend time with their families, have a cup of coffee and relax. The animals here make a huge difference too, we have Oreo the resident dog and Marmalade the big Ginger Cat. We have two white Chinese silkie chickens and birds as well. It just creates a nice welcoming environment."
Donna has been responsible for building relationships in the community and giving the residents the opportunity to give back.
"It's also very rewarding for the residents to give back. For example, we make jams, biscuits or art to sell and the profits go back into feeding the pets. They support us with collecting the bottle tops that go towards children's prosthetic limbs and recycling bottles to make us self-sufficient and sustainable. We propagate some of our own plants here for residents to give plants to their loved ones," says Donna.
"It's nice that we are like a big family and that we show we care for one another. The staff here do a lot for the residents, whether that's making a home-made birthday cake or buying something for a special occasion. It really emphasizes that we are an extended family."
To learn more about our residential aged care communities in Sinnamon Village, visit our webpage or contact us on 1300 403 198.