Jan 25, 2023
Want to understand more about First Nations past? These books are a good start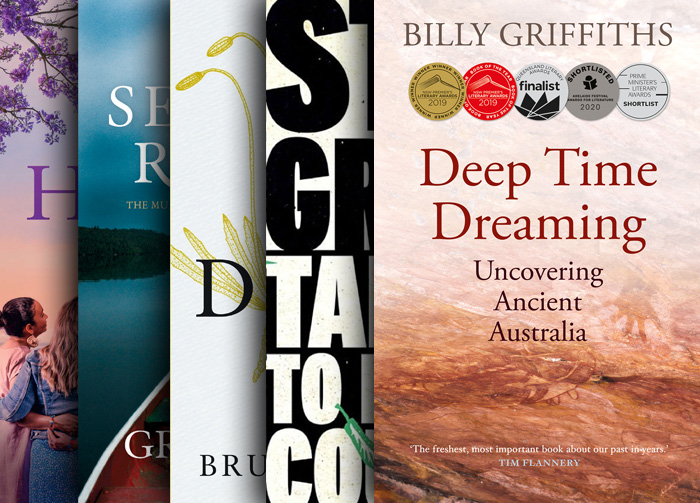 If you have ever wondered what life was like for Australia's first people, you need to read these books. They will open your eyes to a whole new world and the impact that First Nations people have had on this country, not just over the last few decades but since the beginning of time.
Once every generation a book comes along that marks the emergence of a powerful new literary voice and shifts our understanding of the nations' past. Deep Time Dreaming is one such book. Read it: it will change the way you see Australian history.
- Mark McKenna
Deep Time Dreaming, Uncovering Ancient Australia | By Billy Griffiths
"Deep Time Dreaming" by Billy Griffiths is a captivating journey through ancient Australia, uncovering the rich history and culture of the land and its Indigenous peoples. From the earliest known human habitation to the present day, Griffiths explores the deep connections between people and place, and the ways in which the land has shaped human experience. Through vivid storytelling and expert research, this book offers a unique and powerful perspective on the history of Australia and its people, and the profound impact of the past on the present.
---
Dark Emu | By Bruce Pascoe
This powerful and groundbreaking book challenges the longstanding notion that pre-colonial Indigenous Australians were solely hunter-gatherers, and instead argues that they were sophisticated farmers and builders. Pascoe draws on a wealth of historical evidence to paint a picture of a complex and thriving culture that has been all too often ignored or erased.
---
Talking to My Country | By Stan Grant
In this deeply personal and moving book, Grant reflects on his experiences as an Indigenous Australian and the ongoing legacy of colonization. He explores themes of identity, belonging, and the ongoing struggle for reconciliation and justice.
---
The Secret River | By Kate Grenville
An historical perspective. This award-winning novel is set in the early days of white settlement in Australia and tells the story of a transported convict and his family who attempt to establish a new life on the land of the Dharug people. The novel provides a powerful and nuanced look at the devastating impact of colonialism on Indigenous peoples and the complexities of the relationships between settlers and the original inhabitants of the land.
---
Tiddas | By Anita Heiss
This collection of interconnected short stories explores the lives of four Indigenous women living in urban Australia. Through their stories, Heiss shines a light on the resilience and strength of Indigenous women and the ongoing struggles they face in a society that is still grappling with its past.
---
These are just a few of the many incredible books out there that offer a window into the rich and diverse history of Australia's First Nations peoples. I hope you'll take the time to pick up one of these books and learn more about the complex and often-overlooked history of this land we call home.