Nov 13, 2020
Celebrating NAIDOC Week at Wesley Mission Queensland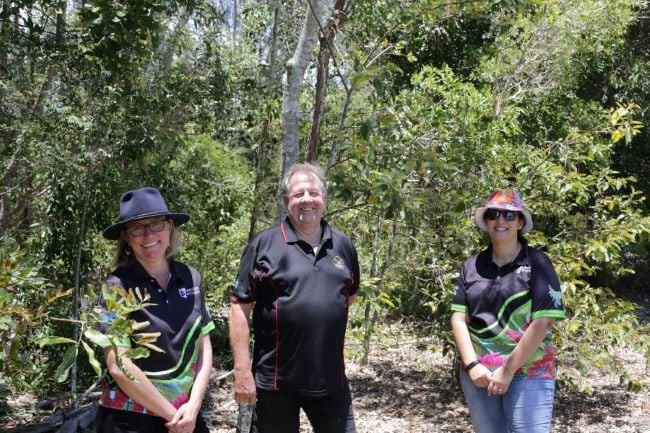 Across all our Wesley Mission Queensland (WMQ) services and programs, we had the opportunity to reflect, connect and learn about the history and achievements of Aboriginal and Torres Strait Islander People in this year's NAIDOC Week – Always Was, Always Will Be.
The week commenced with a panel discussion hosted by Janice McRandal from The Cooperative, a new venture between Wesley Mission Queensland and Uniting Church which exists to make space for dialogues from all people in the community, for the sake of public good and real social outcomes.
The guest panelists included; Yarakka Bayles, a descendent from the Wonnarua and Bundjalung nations of NSW on her mother's side and the Birri Gubba and Gungalu nations of QLD on her father's side, Justine Dillon, a Kombumerri/Nunukul Nghui Woman, and Sono Leone, a proud Butchulla and Garawa woman.
The discussion focused on exploring the theme for this year's NAIDOC Week - Always Was, Always Will Be – and what this means to them. This discussion was lived streamed and is available to watch here.
Several Walk on Country's took place across Queensland, including the Boondall Wetlands, Eagleby Wetlands and Burleigh Headland. Staff were invited to explore, connect and learn more about our nature and hear stories from the past and how to build this into our future.
Our Child Care Centres, Family Day Cares and Children's Groups created and learnt about Australia's First Peoples through storytelling, painting and food.
Jahjumbeen Kindergarten and Child Care Centre connected with Indigenous culture through art and creating a series of dot paintings. Dot paintings have deep symbolic meanings pertinent to individual Indigenous communities. The children explored this art-making process using a range of colours to reflect the broad colour spectrum of art specific to the Yuggera Turrbal People. In large stencilled drawings of native animals, the children loved getting their hands messy to produce dots, lines, swirls and many handprints. In the Kindergarten room the children read the book "Welcome to Country" and discussed what country is and the First Nations Peoples' connection to the land and why our land is so special.
The Gap Kindergarten and Child Care Centre's Cook used lemon myrtle grown in their own playground to create a delicious new recipe, lemon myrtle biscuits – yum!
Another highlight of the week was Thursday night's book club also hosted by The Cooperative and Wesley Mission Queensland (WMQ). The book that was read and discussed was Living on Stolen Land by Ambelin Kwaymullina. Living on Stolen Land aims to educate a broad audience about the colonial contextual history of Australia.
This year, WMQ also launched our Innovate Reconciliation Action Plan. This is a significant milestone for WMQ and shows our commitment and dedication to creating a diverse, just and empowering organisation for all people, including customers, staff and the community.
NAIDOC Week has been a week of celebrating Indigenous Peoples and educating staff, residents, families and clients about Australia's history and future. This week has given us the platform to further build positive and stronger relationships between Aboriginal and Torres Strait Islander peoples, communities, organisations and the broader Australian community. We are #InThisTogether.
To learn more about Wesley Mission QLD's Vision for Reconciliation, visit our webpage.