Oct 17, 2023
Hummingbird House volunteer 'Grumpy' wins 2023 Westfield Local Hero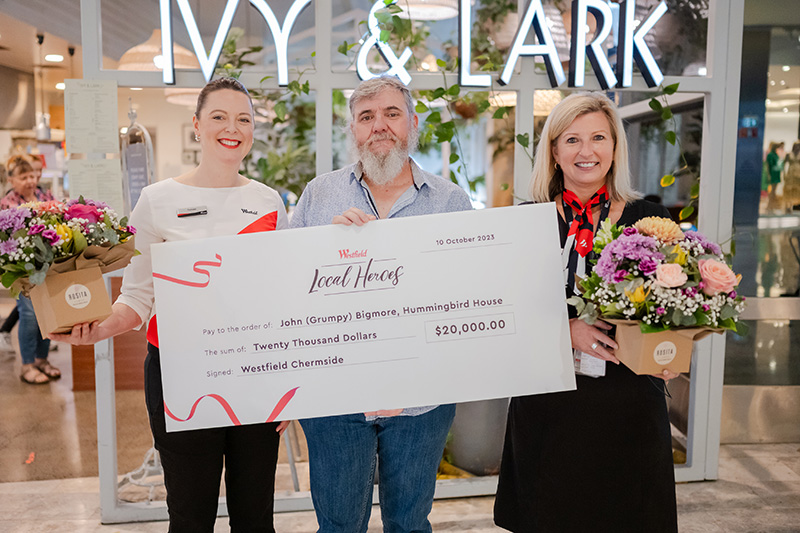 Hummingbird House volunteer John (Grumpy) Bigmore has been announced as the 2023 Westfield Local Hero for Chermside. This award is a community grant of $20K to help Hummingbird House continue to grow their impact as Queensland's only children's hospice.
John, affectionately known as "Grumpy," generously dedicates numerous volunteer hours to the upkeep of gardens where families with children facing life-limiting conditions can make precious memories. He is often seen sharing a cup of tea with family members, listening to their stories and providing comfort where he can.
As an experienced landscaper, Grumpy proactively offered his services to Hummingbird House as a heartfelt gesture of gratitude for the exceptional care his beloved granddaughter received at Hummingbird House before she died.
Contrary to his nickname, Grumpy is kind, compassionate, and selfless. He wholeheartedly commits himself to ensuring that Hummingbird House remains a place of solace and comfort for all. In an extraordinary display of dedication, he even sacrifices his annual leave to volunteer his time.
Grumpy was pleasantly surprised when nominated as a Westfield Local Hero:
My work provides a space families can enjoy and find some peace. I get satisfaction from giving back to the community.
Thanks to Grumpy's unwavering dedication, Hummingbird House can now allocate essential resources to enhance its nursing services, benefiting children and families even more.