May 28, 2020
Reflections from an in-home care worker during COVID-19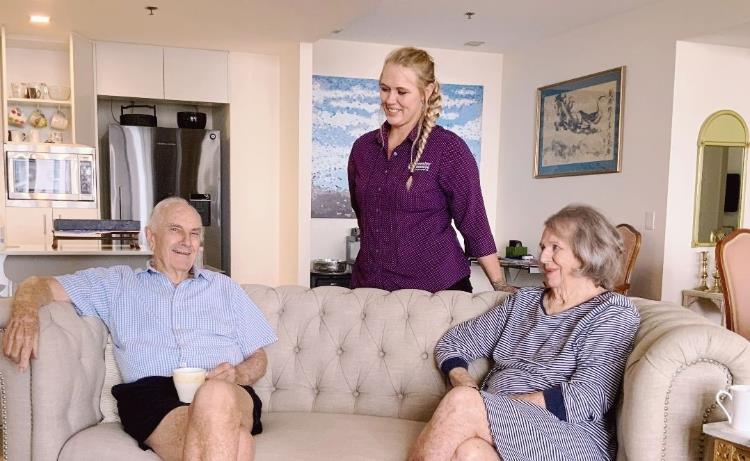 Clients look to our care workers for reassurance. Their role is to instil confidence that it is safe to continue accessing our services.
Tennile's story
In the midst of all the worry and uncertainty surrounding the pandemic, still being able to be out there in the community supporting and being there for our clients in a time of most need has been an utter joy.
Most of my clients have been isolated from loved ones, friends, usual daily activities and their normal social interactions which has been a great test for them. The feedback from clients when you arrive is more then most words could describe, the happiness my clients emit and the pure joy they bring out in discussion is more than enough to know they are so very thankful that we all are just there.
Since the pandemic began and throughout this rollercoaster of events so far, seeing the benefit from our daily, weekly and fortnightly visits has been a reassurance to most of them.
After getting to know and speaking with my regular clients, I have gotten to know their interests - what they have been missing out on socially and what they most need. Conversation is the most important thing that some isolated clients have most been impacted by, speaking to people.
When I have been shopping I have collected puzzles, magazines, crossword/wordfind books, chocolates, flowers and just little items I can bring to a visit to keep them busy or sometimes just take their mind away from the boredom of being stuck at home and they all have been so very thankful. Letting them know of useful services and helping them with technology they have in their homes to reconnect with loved ones and friends, or order their shopping, a daily paper delivery online, are some things which they have never done before. It has also been rewarding and much appreciated by them.
I enjoy my job, and I am so thankful that being out there during this crisis with our clients has also taken the burden off my worry and uncertainty, and is helping me through this rollercoaster too.
Take care,
- Tennile, Wesley Mission QLD Care Worker
To learn more about our range of In Home Care services, visit our webpage.