Feb 18, 2021
Jenny - Home Care and Respite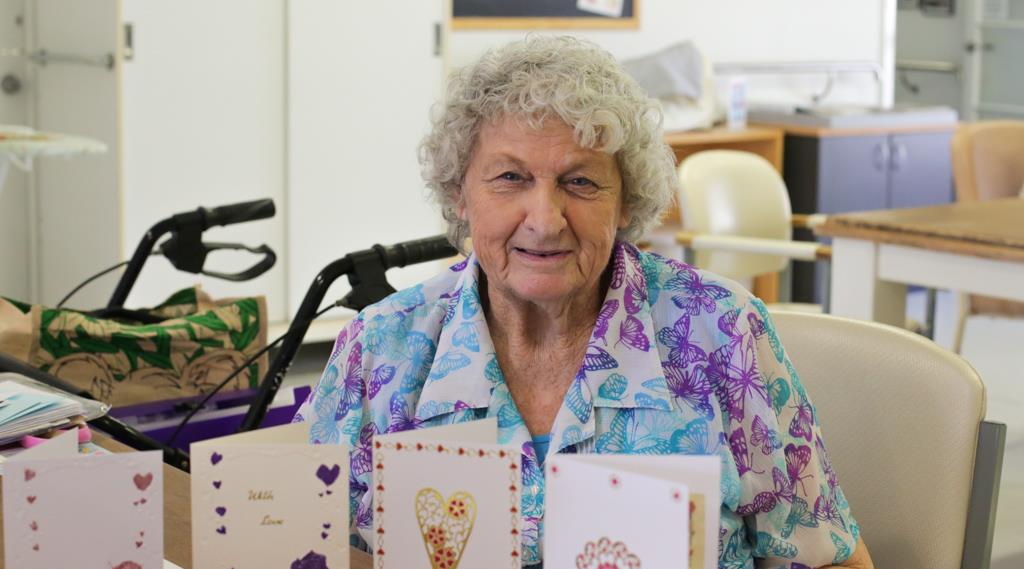 Jenny has been a member of Hyland House Day Respite Centre in Petrie for almost two and a half years now. From day one Jenny loved coming to Hyland House, it provided the perfect break and she has made new friends and grown her skills along the way.
"I was initially in hospital but soon recovered, however my Husband then became sick. I needed a break and it was suggested to me to try day respite at Hyland House one day a week. I loved it, I met lovely people and I enjoyed the activities," says Jenny.
After Jenny's Husband sadly passed away, her daughter recommended that she go two days a week. Jenny says that unless there's a good reason, she never misses a day coming into Hyland House.
"I love coming here, I come two days a week and unless I'm sick I don't miss a day.
"On Tuesdays we play Skip-Bo and all sorts of activities. Thursday is our craft group where we have been hand knitting a blanket, we also crochet, make cards, colour in and a whole heap of different stuff. I'll give anything a go though, whatever they have organised I'll usually join in," says Jenny.
"I've learnt new skills since coming here. I had never made cards before and now I love doing it. At home I keep myself busy by creating new cards too.
"The people here are great, I've made such good friends. You can have a laugh and joke with everyone, it's really good."
"During the COVID-19 lockdown in 2020 we couldn't attend the centre, however the staff put together some fun packs for us and developed the Phone Waves Program which happened every fortnight. Over the phone the staff got us to board a plane and you had to work out what the destination was along the way. We had a package with colouring in and 'an adopt a plant'. I really enjoyed those activities too."
Jenny found out about Wesley Mission Queensland's Home Care services through Hyland House. For over a year, Jenny has been receiving our in-home care services through her tailored Home Care Package. Each week, Jenny's Care Worker helps her hang out the washing and clean and every fortnight takes her shopping and mows the lawn. Her visits to Hyland House are also included in the Home Care Package.
"I was originally with another home care provider, but I was already attending Hyland House and loved it here, so it made sense to make my Home Care Package provider WMQ. I've had a package for over a year now and I have lots of services to choose from."
Jenny's message to those looking at Respite is to try it out, "I tell friends to try out Hyland House all the time, they can see how much fun I have. I just really enjoy each week that I come here."
To learn more about our Respite and Home Care Services, visit our webpage.