Feb 7, 2023
5 ways to get support while you wait for a Home Care Package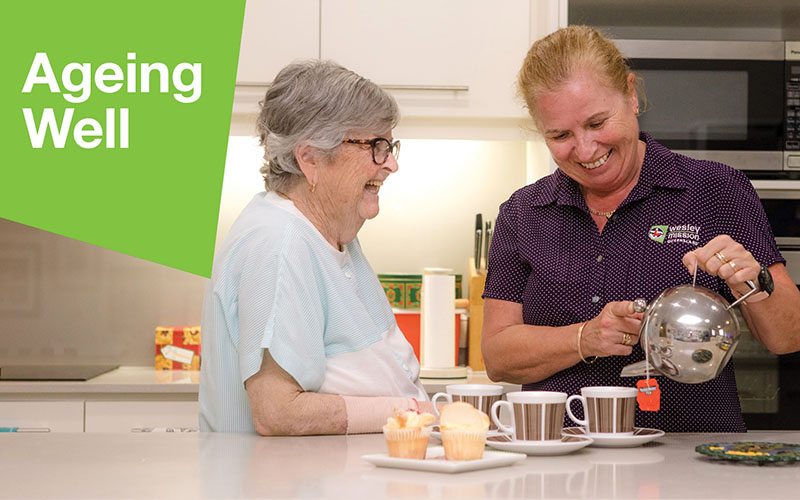 The Australian Government has committed an additional $1 billion in funding to help older Australians live at home for longer – providing thousands of additional Home Care Packages. This is welcome news if you are waiting for one, or in the process of applying for in-home care services via My Aged Care website.
In the meantime, if you need some extra help at home while you are waiting, here are a few options to consider.
---
1) Commonwealth Home Support Program (CHSP)
The Commonwealth Home Support Program (CHSP) is designed to provide early support for you if you require minimal assistance but wish to maintain your independence.
The Commonwealth Home Support Program can support you with:
• Domestic assistance, including help with cleaning, washing and shopping
• Personal care, such as help with bathing, dressing, grooming and eating
• Social support
• Nursing care by a Registered Nurse, information and advocacy services
• Flexible respite care
• Centre-based respite
• Community-assisted transport
• Home maintenance and modifications
• In-home respite care
• Transport services
Who can access this service?
• People aged 65 years and over (or 50 years and over for Aboriginal and Torres Strait Islander people)
• People at risk of premature or inappropriate admission to long-term residential aged care
• Carers of older Australians eligible for services under the CHSP program.
How to access the Commonwealth Home Support Program
To access the program, you'll need to undertake an assessment by a Regional Assessment Service Provider through the Australian Government's My Aged Care service. Our supportive staff can help you throughout this process. Please call us on 1800 448 448 or fill out our enquiry form to find out more.
---
2) Interim packages
An interim package can give you access to some subsidised, lower-level services while you wait to be allocated your Home Care Package (HCP).
Types of interim packages and wait times
If you're approved for a Home Care Package, your ACAT assessor may offer you one of the following interim packages:
• Level 1 HCP: No interim package available
• Level 2 or 3 HCP: A Level 1 interim package (3–6 month waiting period)
• Level 4 HCP: A Level 2 interim package (1-year waiting period or longer)
If you choose to receive an interim package, it won't impact your place in the national prioritisation system (the Government's queue and process for allocating Home Care Packages).
How to apply
At your face-to-face assessment, tell your assessor that you're interested in an interim package. You can also contact My Aged Care at 1800 200 422.
---
3) Consider private fee for service options
If you don't qualify for the government-funded options above (or you need support before your HCP comes through), you can consider paying for home care services privately. These services are not subsidised, so you will pay the full cost.
We can help to organise this for you. For more information, call us on 1800 448 448 or fill out our enquiry form.
---
4) Queensland Community Support Scheme (QCSS)
Wesley Mission Queensland is a proud provider of the Queensland Community Support Scheme (QCSS). This program provides low-intensity support for people at home, with a small amount of assistance to access activities and appointments in the community.
QCSS can assist people:
• live as independently and safely as possible in their homes
• have increased opportunities for participation in, and access to, their community
• access supports and/or services to meet their needs in the most appropriate way
• improve their physical and emotional well-being by increasing feelings of independence, empowerment, and autonomy.
Eligibility
The QCSS program is available for those with low-intensity support needs and who are under 65 years of age.
Support services available
The range of support activities provided by QCSS is based on the identified goals of each person. These activities can include:
• Personal care
• Assistance preparing meals or support in establishing a meal delivery service
• Domestic assistance
• Support to go shopping or support in establishing an online shopping schedule
• Transport to medical or other appointments
• Social support and activities including bus trips
• Referral to other services or aids
• Support with minor home maintenance such as grab rails and handrails (or any items to enhance independence that don't require a structural change to the home)
• Assessment from an Occupational Therapist or Physiotherapist for short-term intervention.
---
5) Looking after yourself
Are you caring for someone who is waiting for a Home Care Package? If you are, it's important to look after your own mental and physical health. Support services such as Carer Gateway offer free counselling services either over the phone or online to help you find ways to look after yourself every day.
---
Home Care with WMQ
Our compassionate approach is what makes us extra special!
Experience compassionate and personalized home care services with Wesley Mission Queensland. Our dedicated team of healthcare professionals provides support for daily activities, companionship, and tailored care plans to ensure well-being in the comfort of home.