Feb 7, 2023
10 ways home care can make your life easier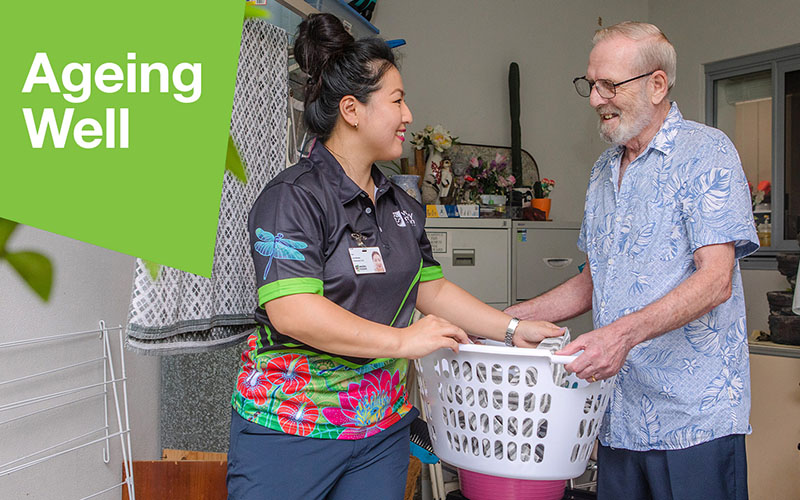 We all want to maintain our independence and live in our own home for as long as possible. If you notice that some everyday tasks have become challenging, it might be a sign that you could do with a little extra help at home.
There are many ways that home care can help you to maintain an independent lifestyle. Here are the top 10:
1. A happy, tidy and safe home
A little extra support around the home can make a huge difference in your day-to-day life. Our team of qualified in-home care workers can support you with a range of domestic duties so you can focus on the things that matter most to you, such as spending time with family or catching up with friends.
Getting domestic assistance can also make your home safer to live in. This might include leaving the mopping to your care worker so that you avoid slippery floors or help with washing and ironing.
2. Social connection
Staying connected with your friends, family and the wider community can make all the difference to your health and well-being.
Social support comes in all shapes and sizes. From transport to appointments, social engagements or a local interest group, to companionship at home and enjoying a cup of tea with your care worker. At WMQ, we'll listen and find out what's important to you to ensure we do things to your liking.
3. Maintain and improve your mobility, balance and strength
Retaining balance and strength around your home and in your community is essential for maintaining your independence. In order to maintain and build confidence in going about your day and doing the things you love, in-home support services can help you improve your mobility strength and balance.
For example, if you are recovering from an injury or experiencing decreased mobility, a physiotherapist can help you manage your pain and assist with your recovery. Want to improve your fitness? An exercise physiologist or attending one of our balance and fitness classes could help you achieve your personal goals.
With a wide range of allied health services, we'll help you stay physically and mentally fit and feel confident in the community and live independently at home.
4. Healthy eating
A healthy balanced diet is key to maintaining good health. Our in-home care team can help you with grocery shopping, meal preparation and cooking, or organise to have prepared meals delivered. Our dieticians can come up with a healthy eating plan that suits your lifestyle or health requirements.
5. Look and feel your best
Personal hygiene routines are important for your general health but they also make you feel good. Our team of care workers can help get you ready for the day ahead or settled in for the night with things like showering, dressing or other personal care including assistance with medication.
6. Stay sharp - improve your memory
Our home care workers can work with you to put strategies in place to manage memory loss. These might include ideas for staying connected and active in the community, which can improve your cognitive function and mental health. It may also include attending one of our day respite centres which offer full or half-day programs of activities and social connection.
7. Making your home a safe environment
If you are noticing that some things are getting challenging or unsafe for you to do around your house and property, our team of home maintenance specialists can help. This can include fixing a dripping tap, changing locks and lightbulbs, or the installation of grab rails to help you move more safely at home.
8. Staying on top of the yard
How your garden looks can be a great source of pride. When pushing a mower or trimming a hedge gets too hard, our team can assist with lawn and garden maintenance and general yard cleaning so you can enjoy the garden
9. Tailored transport solutions
If you cannot drive or access transport for any reason, we can help you access transport services to attend medical or other appointments, go shopping, visit friends and family or other outings as needed. We can also arrange taxi vouchers so that you can make your travel independently.
10. Need a break?
Everyone needs a break every now and then. Respite services can support you and your carer to receive the care you need in a comfortable and supported environment. We'll work with you to determine the best way to assist your needs, whether it's for day or overnight respite in your home or in a centre.
---
Home Care with WMQ
Our compassionate approach is what makes us extra special!
Experience compassionate and personalized home care services with Wesley Mission Queensland. Our dedicated team of healthcare professionals provides support for daily activities, companionship, and tailored care plans to ensure well-being in the comfort of home.