May 21, 2020
The Wheller Gardens Auxiliary remembers the late Barbara Wood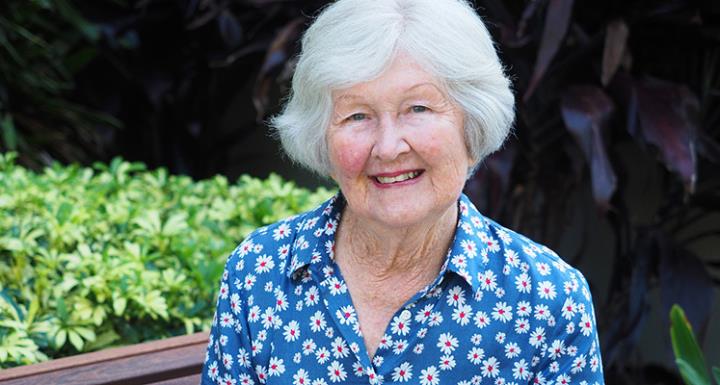 Barbara Wood, a kind and dedicated member of our Wheller Gardens community, passed away in early May 2020. Barbara was the President of Wesley Mission Queensland's Wheller Gardens Auxiliary Garage Sale, which has been operating for over 40 years. Not only that, Barbara volunteered her time to selflessly change the lives of others through companionship and commitment to the cause.
Barbara Wood was President of the quarterly Wheller Gardens Auxiliary Garage Sale since 2008. Prior to becoming President, Barbara and her Husband Trevor Wood (also Auxiliary Secretary), had been members of the auxiliary for five years.
"We moved to Wheller on the Park nine years ago, after deciding to downsize from our home in Albany Creek. We are members of the Albert Street Uniting Church, and that's where we first heard about Wheller on the Park at Wheller Gardens," explains Trevor. "As we had already been involved in the auxiliary for some five years prior, it was a relatively easy decision for us to make. It was almost like our second home at the time. It's definitely been a wonderful decision to move here. Everyone is so lovely and there's a wonderful sense of fellowship – which is never more evident than in the auxiliary."
Over the years the funds raised from the auxiliary have gone back into the Wheller Gardens community, which includes four aged care homes, Little Marchants Kindergarten and Child Care Centre, Wheller on the Park Retirement Living and Hummingbird House.
The auxiliary has contributed to purchasing items in need for these communities, such as, TVs, brain trainer devices, iPads, instruments, sound systems, garden furniture, playground equipment, bus trips, extensions and refurbishments of buildings. Over the last 40 years the auxiliary estimate that over $200,000 has been raised. However, it's impossible to put a price on the tireless time and effort that Barbara, Trevor, auxiliary volunteers and past members, put into the Wheller Gardens community.
Barbara's humble and gracious attitude was like no other, she will be the first to tell you that the auxiliary is no 'one-man job' – it takes a lot of good work and is only possible thanks to the wonderful auxiliary volunteers.
In Barbara's words from 2016, "I call us 'team auxiliary', because that's what we are – a team," says Barbara. "I'm continually grateful for all the hard work that everyone puts in, it's very inspiring."
"We see this as God's calling for us. He has shown us a way in which we can make a difference to the lives of others; a way that we can reach out and do His will. We thoroughly enjoy our contribution and commitment to the auxiliary and we'll be happy to be part of it as long as we are able."
In celebration of National Volunteers Week 2020, we would like to pay tribute and remember the late Barbara Wood for all she has done for Wesley Mission Queensland. Her legacy will never be forgotten, for Barbara has left a significant impact on each of the lives she has touched.
To learn how you can make a difference in the lives of others, please visit our Get Involved webpage.