Nov 17, 2023
What to look for in disability housing
Image: WesleyCare Tewantin, on the Sunshine Coast..
Under the National Disability Insurance Scheme (NDIS) you may be eligible for Specialist Disability Accommodation (SDA). SDA allows NDIS participants to access safe, secure and accessible housing that meets their individual needs.
Wesley Mission has 15 disability communities across Brisbane, Gold Coast and the Sunshine Coast. These communities offer supported independent living (SIL), allowing participants to also access the support and care services they require.
In this article, we will explore what disability housing is and delve into the key factors to consider when seeking the perfect home.
If you have very high support needs and your current home does not support the needs of your disability you may be eligible for specialised disability housing (SDA).
Disability housing allows participants to live a more independent life where their care and supports can be delivered safely or more effectively.
Within SDA housing there are four different levels of support:
• Improved Liveability (for individuals with intellectual, cognitive and sensory impairment)
• Robust (for people with a disability where complex behaviours might occur, potentially harming themselves, and others, or causing damage to property)
• Fully Accessible (provides high levels of assisted physical access for those with significant functional impairments)
• High Physical Support (provides an extremely high level of specialised design to further increase physical accessibility)
Participants in disability housing may receive care and support from disability support workers, but the level and timing of this care will depend on their individual needs and NDIS plan. Some individuals may require 24/7 care, while others may need assistance with specific tasks or have support scheduled at certain times during the day or night.
What to look for in disability housing
The first step in choosing the right home is to assess your needs thoroughly. For example, you may need more assistance with daily activities, whereas someone with an intellectual disability might need skills development activities and staff trained to provide behavioural support and interventions.
Here are a few things to consider:
Staff qualifications: well-trained nursing staff contribute significantly to patient safety, ensuring that homes maintain high standards of care. This is why it's important to check that the staff who may be looking after you are properly qualified to meet the requirements of your condition.



Wesley Mission Queensland (WMQ) provide support from a team of Certificate III qualified support workers supervised by experienced health professionals including enrolled and registered nurses



Accessibility: This should be at the top of your list. Look for units that have ramps, wide doors and hallways, and other features that make it easier for those with mobility impairments to move around.



Safety features: safety is especially important for those with disabilities. Look for units that have features like smoke detectors, sprinkler systems, and emergency/on-call systems to ensure that you have the support you need in case of an emergency.



All WMQ services are equipped with fire sprinklers, smoke detectors and emergency call assistance features



Location: Consider the location of the disability housing community when making your decision. Is it close to public transportation, medical facilities, and other amenities you might need? Does it need to be close to your friends and family? Proximity to loved ones can provide a valuable support system.

Social compatibility: If in a shared house or group home, do you feel comfortable among the other residents? Social compatibility can significantly impact your quality of life in the new environment.

Social opportunities: Many disability housing communities offer social and recreational activities, which can be a great way to meet new people and stay active. Consider whether the community you're considering has a range of activities that appeal to you.



At WMQ SDA homes, you can access support from our team of Community Access Facilitators who support you with accessing social and recreational supports so you can live a full, meaningful life, build capacity, and achieve your goals.



Quality of life: Ultimately, the most important factor to consider when looking for disability housing is your quality of life. Look for communities that offer a sense of community, security, and support, and that allow you to live as independently as possible.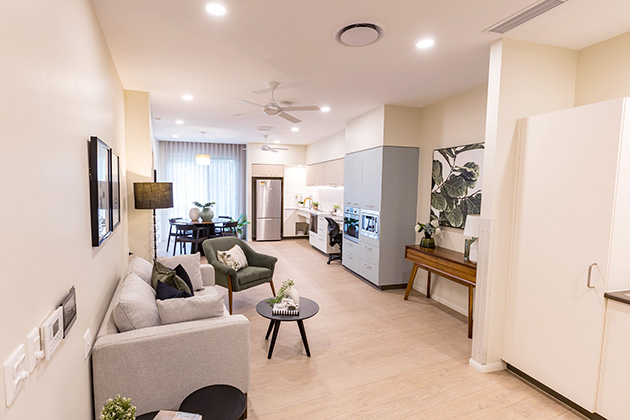 Image: WMQ Murarrie Apartments, in Brisbane South.
Things to consider beyond the concrete
Finding the perfect home often involves elements that are less tangible and more emotional. It's essential to get a feel for the place. You can read brochures and online descriptions, but nothing beats a firsthand experience.
We encourage you to contact us so we can match your needs with our accommodation services to get a sense of what it would be like to live there. Meet the staff, talk to the residents, and gauge the overall atmosphere. It's a significant decision, and your emotional comfort is just as important as the physical amenities.
---
Housing with choice
Finding a home begins with making the right choices – and we're here to help you every step of the way. Explore our 15 Specialist Disability Accommodation communities in and around Brisbane, and contact us for more information on available disability support services.