Sep 11, 2020
Wesley Industries do disability support differently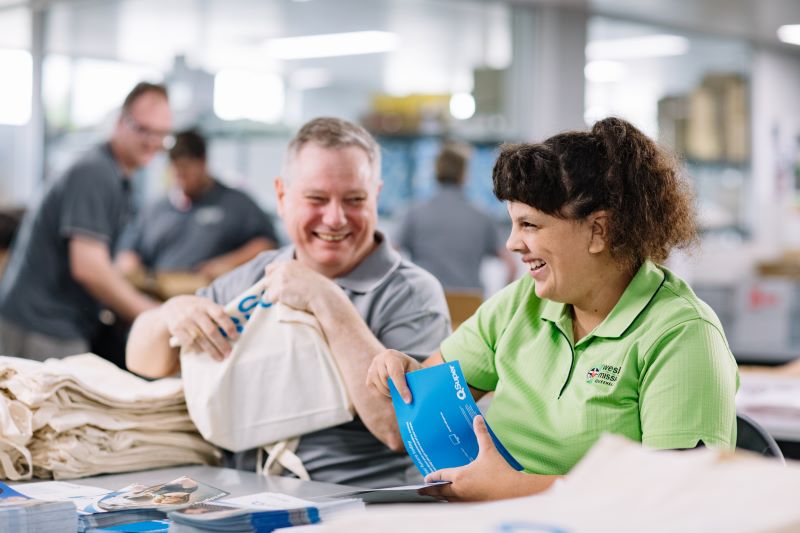 Based in Rocklea, Wesley Industries is an innovative initiative providing supported employment and training for people of all ages living with a disability. Our focus is making the work environment an enjoyable one.
For almost 20 years, Wesley Mission QLD's Wesley Industries has been operating the digital printing, packaging and warehouse service centre. However, there is more to us, as an Australian Disability Enterprise (ADE), our objective is to provide the opportunity for people to learn new skills, build confidence and to enhance connection in a supported workplace environment.
Manager of Wesley Industries, Greg Ryan, says that at Wesley Industries we work with the individual to understand their abilities and tailor the roles to support the employee to achieve success.
"We currently have 52 employees, with a range in different abilities. Instead of focusing on what they can't do, we focus on what they can do. When you give someone the freedom to try different things and then seeing that smile on their face when they have achieved something they've never done before - that is truly something special," says Greg.
"We have support staff on the floor who assist in problem solving issues that our employees may face. It's about working with the individual to get them back onto the right track. When new employees start at Wesley Industries we tailor the orientation to suit them and to understand what interests them, so we can then build on their confidence and skills."
Wesley Industries not only provides supported employment but is also breaking the norm by offering our Stellar Arts program five days a week and during work hours. Stellar Arts program is a vibrant collection of creative workshops run by qualified artists and musicians. Workshops include singing, magic, drumming, visual arts, drama and yoga.
"We're creating a more dynamic workplace here at Wesley Industries. With Stellar Arts offering a variety of creative workshops five days a week, it brings a real positive vibe throughout the whole workplace. When we have the drumming workshop on, you can hear it throughout the whole building – it's amazing.
"A lot of people haven't been exposed to these different forms of art, and it's a real release for them. We have noticed positive changes in our employees, from attitude, confidence, socialising, to gaining new skills. It's a real win-win," says Greg.
Wesley Industries is funded by the National Disability Insurance Scheme (NDIS). We currently have roles available for supported employment at Wesley Industries. If you have employment under your NDIS plan, lets chat about what roles we have available. To learn more, visit our webpage or call us on 07 3717 7000.