Mar 8, 2021
Meet the team at headspace Capalaba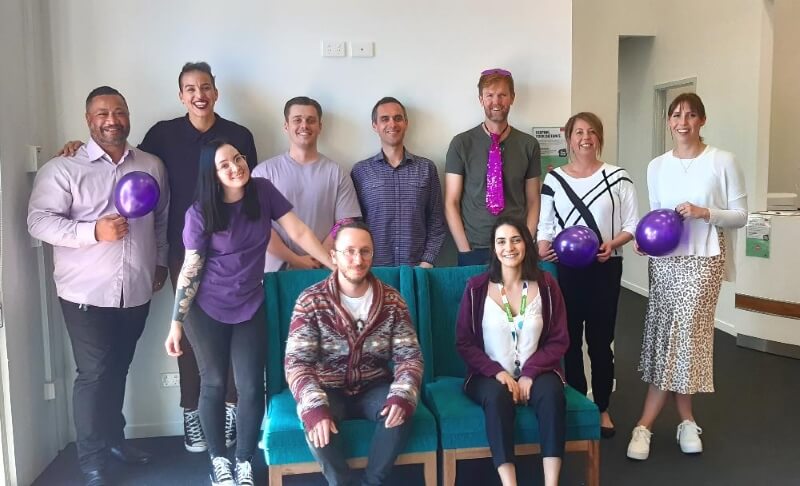 headspace is the National Youth Mental Health Foundation providing tailored and holistic mental health support to people aged 12-25 years old in Australia. Wesley Mission Queensland are proud to partner with headspace and to operate centres in Capalaba, Hervey Bay and Maryborough.
The team at headspace Capalaba are passionate about working with young people and pride themselves on creating a safe, friendly, confidential and non-judgmental environment. They love coming to work and supporting young people in the community to live the lives they want to be living.
Introducing the team…
Nikki, our administration coordinator, is responsible for the day-to-day running of our administrative team and the greater workflow of the centre. She is always making sure that our centre is running smoothly. Her pronouns are she and her.
Vicki and Kelly are our medical receptionists here and are always the warmest, friendliest ones in the room. Vicki and Kelly are more than likely going to be the first people you talk to when you call up or walk into headspace Capalaba. They will explain exactly what kind of support we offer. Vicki and Kelly's pronouns are both she and her.
Papaliitele La'a is responsible for the operational management of headspace Capalaba. He is a mental health professional who has a special ability to get people on board with his dreams and visions for young people in the community. If you have any questions or concerns in relation to your care or want to provide any feedback about your experience with headspace Capalaba, you can always ask to speak with La'a. His pronouns are he and him.
Justine, Jessiah, Victoria and Ben make up the Access and Engagement Team at headspace Capalaba. They are all mental health professionals who enjoy making young people feel comfortable in the counselling space. They have many duties at our centre, but often, they can be one of the people that ask you some initial questions about what is going in your life and why you might want some support at this time. Justine and Victoria's pronouns are she/her pronouns and Jessiah and Ben's are he/him.
Canice, Graham, and Anna work with young people in a variety of therapeutic ways, depending on what each person needs in terms of support. They are all mental health professionals with heaps of experience in working with young people. Mental health professionals can be from many different backgrounds and have education in fields such as psychology or social work. Anna also works with family members, friends, and carers of the young people here at headspace. She talks through how they're going in supporting the young people in their life. Canice and Graham's pronouns are he/him, while Anna's are she/her.
Vanessa and Cherelle are what we call Private Practitioners, which means they work therapeutically with young people who have a Mental Health Care Plan and referral from their GP. They are both mental health professionals that support young people's mental health through individualised interventions. Vanessa and Cherelle's pronouns are she/her.
AJ is the team's Wellbeing and Engagement Consultant. They are responsible for being out in the community talking to young people about mental health and sharing information about what headspace is. AJ is also a mental health professional and works with young people who may have not ever talked to a psychologist or counsellor before. AJ uses she/they pronouns.
We often have provisional psychologists, social work students, counselling interns and other professionals on placement here providing services under the supervision of a qualified professional. We have workers from other organisations who come in to support young people in various ways. Depending on what day of the week it is, there may be workers here to help with employment, alcohol or drug counselling, and coping with trauma.
To learn more about headspace or to get in contact, visit our webpage.