Feb 24, 2023
Hydrotherapy: providing a break for children with complex physical needs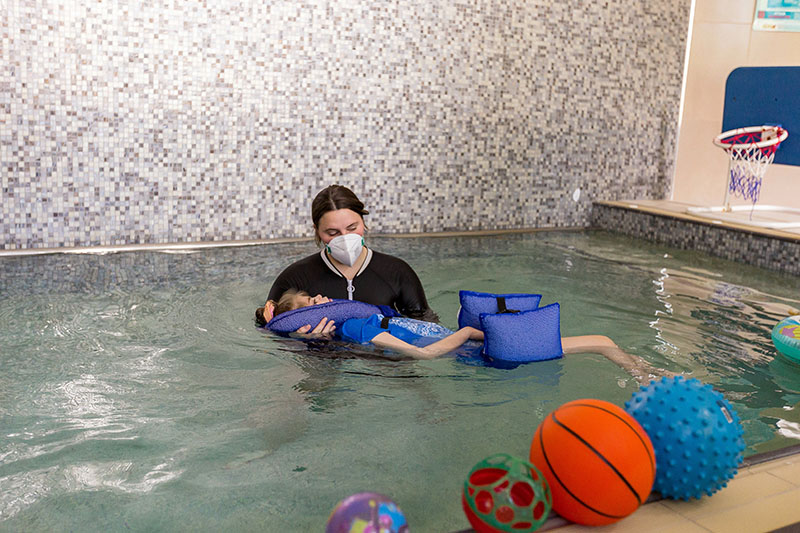 Hydrotherapy can be a wonderful and effective form of physical therapy for children with complex physical needs. For these children, everyday activities that most of us take for granted can be incredibly challenging. Hydrotherapy can provide a much-needed break from the daily struggles they face.
Hydrotherapy, also known as aquatic therapy, involves using water to provide therapeutic benefits. The buoyancy of the water helps to reduce the weight-bearing load on the body, making movement easier and less painful. The resistance of water also provides a gentle workout, helping to build strength and endurance.
For children with complex physical needs, hydrotherapy can be especially beneficial. The water can provide a safe and supportive environment where they can move freely and explore their physical abilities. It can be a fun and enjoyable experience, which is important for children who may spend much of their time in medical settings.
Emotional benefits of paediatric hydrotherapy for children with physical disabilities
Besides the physical benefits, hydrotherapy can also have emotional benefits. It can provide a sense of independence and control due to the freedom of movement in the water.
It can help with relaxation, which is important for children who may experience anxiety or sensory overload.
1-on-1 tailored sessions with a Wesley Mission Queensland physiotherapist
Located in Chermside, North Brisbane, our modern hydrotherapy facility offers a private pool in a noise-reduced sensory environment. We tailor our programs to the child's individual needs ensuring they receive the most effective therapy possible.
Each child has unique abilities and challenges and with this in mind, we develop personalised treatment plans. Each plan is designed to maximise the child's progress, whilst minimising any discomfort. For example, we may use flotation devices to support a child's movement or select activities that are suitable for their abilities and interests.
We also work closely with families and healthcare providers to understand the child's needs and goals. Not only does this improve their physical abilities but helps to build confidence and independence. Most importantly this approach allows the child to achieve their full potential.
Our dedicated team is here to provide the highest quality of care and support. We strive to make every child's therapy session as rewarding and positive as possible.
If you would like to know more, please give us a call on 1800 448 448.
Private sessions or NDIS funded
Our hydrotherapy services are available for private patients as well as NDIS participants. Services can be funded under the following categories:
• Improved Daily Living Skills
• Improved Health and Wellbeing
We provide Hydrotherapy to children aged 0-18, who live with a complex physical disability:
• Live with a disability
• Have neurological deficits
• Require pain management support
• Experience joint problems (such as arthritic joints)
• Are preparing for surgery
• Need post-operative rehabilitation
Ultimately, hydrotherapy can be a wonderful experience for children with complex physical needs. It can provide a break from the daily struggles they face, and give them an opportunity to move, play, and explore in a safe and supportive environment.
---
Paediatric Hydrotherapy at WMQ
Brisbane's only 1-on-1 hydrotherapy pool with direct access. Private or NDIS funded.
If you are the parent or caregiver of a child with complex physical needs, talk to your healthcare provider about whether hydrotherapy is suitable for your child. You can also give us a call on 1300 940 176. We would love to answer any questions you may have.