Jun 28, 2021
Covid vaccine blitz for Wesley Mission Queensland staff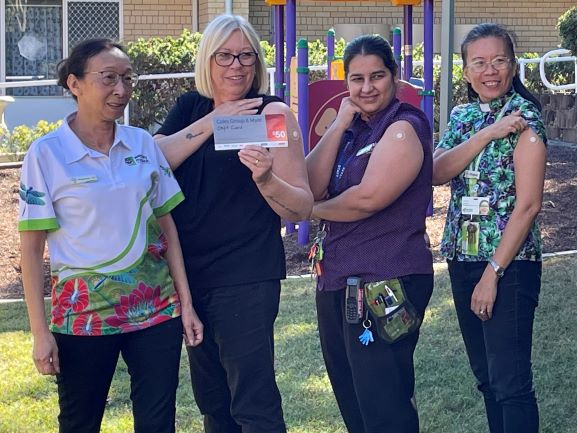 Wesley Mission Queensland is providing gift vouchers to thank frontline staff who receive their COVID-19 vaccine, as well as on-site vaccination hubs to ensure all clients and staff are protected from the impacts of coronavirus.
Wesley Mission Queensland CEO Jude Emmer said hundreds of staff had already taken advantage of the service to receive the COVID-19 vaccination.
"Our frontline staff are the backbone of our organisation and over the past 18 months it has been their dedication and vigilance that has helped us keep our residents and clients safe from the impacts of a virus they are particularly vulnerable to," she said.
"We know how committed our staff are to the people they care for, so we decided to ramp up our efforts to ensure any staff member who wanted to be vaccinated could do so, as soon as possible.
"Our frontline staff include those who are working face to face with clients, including staff working in aged care, disability, providing care in people's homes, our hospices like Hummingbird House and those providing support out in the community and at our youth and family service hubs.
"It is so important to protect our staff, residents, families and the wider community, which is why we are making it as easy as possible for frontline staff to be vaccinated."
Ms Emmer said the health and safety of residents, families and staff was of utmost importance and that strict protocols and infection control measures were in place to safeguard against the threat of COVID-19.
"We communicate regularly with staff and work in partnership with Queensland Health to ensure our staff are taking the necessary precautions.
"We must work together to protect our communities," she said.
To read the latest update from Queensland Health on Covid-19, click here.