Sep 4, 2023
Tofu and sesame stir-fry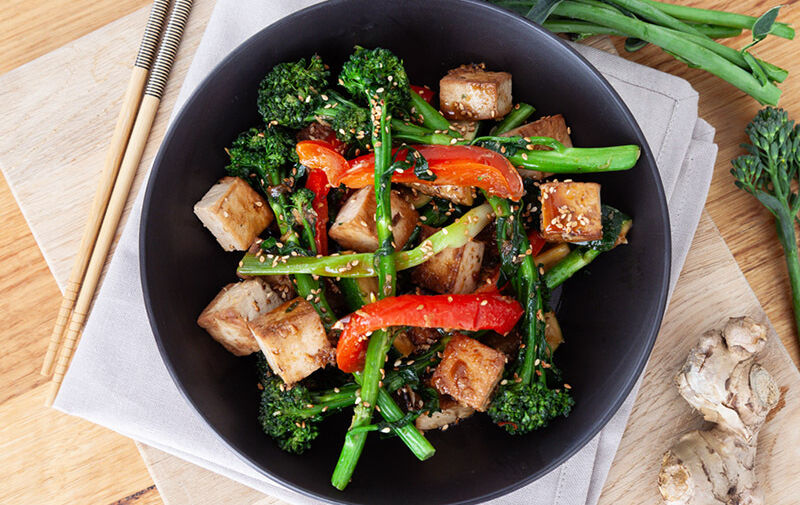 Celebrating Women's Health Week!
During the first week of September, thousands of women come together to take part in a week of events and online activities designed to boost the health and wellbeing of women, girls, and gender-diverse people. Find out more on the
Women's Health Week website
.
Looking to boost your intake of plant-based protein? Add this tasty tofu and sesame stir-fry to your regular dinner rotation.
Ingredients

For marinated tofu
• 2 tablespoons tamari or soy sauce
• 1 teaspoon toasted sesame oil
• 1 to 2 cm piece ginger, freshly grated
• 600 g firm tofu, cut into 1.5 to 2 cm cubes
For stir-fry sauce
• ½ cup tamari or soy sauce
• ¼ cup vegetable stock
• 1 tablespoon honey Other ingredients
• 1 tablespoon sesame seeds
• 2 tablespoons olive oil
• 1 red capsicum, sliced lengthways, 1.5 cm wide
• 1 bunch broccolini or 1 head broccoli, cut into florets
• 4 spring onions, trimmed and cut in half
• 1-2 zucchinis, chopped into 5 cm lengths
• 2 cloves garlic, sliced
• 1 to 2 cm piece ginger, freshly grated
Method
1 - To prepare the marinated tofu, combine the tamari (2 tablespoons), sesame oil and ginger in a bowl. Add the tofu and toss until coated. Leave to marinate.
2 - Next prepare the stir-fry sauce. In a small bowl, combine the tamari, stock and honey. Set aside.
3 - Heat a wok or frying pan over a medium-high heat and toast the sesame seeds, stirring regularly until they are brown, about 2 minutes. Remove seeds from the wok and set aside.
4 - Heat 1 tablespoon olive oil in the wok. Using a slotted spoon, add the tofu and fry for 3 minutes before turning the cubes and frying for a further 3 minutes. Tip: If the ginger in marinade is sticking, add some water.
5 - Remove tofu from the pan and set aside. Remove wok from heat, allow it to cool down, then carefully wipe it with paper towel to remove any ginger that has stuck to the pan.
6 - Heat another tablespoon of olive oil in the wok. Add the vegetables and cook until just tender, about 5 minutes, adding a splash of water as needed if sticking. Add ginger, garlic and any remaining tofu marinade and cook for another minute until fragrant.
7 - Add the tofu and stir-fry sauce to the wok and cook for another 1-2 minutes, or until sauce is slightly thickened and the tofu is heated through.
8 - Serve topped with toasted sesame seeds.
Nutritional information
By Jean Hailes Naturopath Sandra Villella
TOFU
Tofu provides an excellent source of complete protein. This means it contains all the essential amino acids – the building blocks of protein. Tofu, which is made simply with soy beans and water, is an obvious choice and much less processed than many of the 'fake meat' alternatives.
Because soy is rich in plant oestrogen, some people mistakenly believe that it's a hormone disruptor and that it can have harmful effects on hormonal health. There's also a lot of misinformation online and confusion in the general population about its safety in relation to breast cancer.
However, research overall shows that eating whole soy foods, such as tofu and tempeh, in amounts similar to traditional Asian diets is safe.
Eating soy in this way is also linked to a reduced risk of breast cancer, especially if consumed regularly before puberty. It's also not linked to an increased risk of breast cancer recurrence in breast cancer survivors.
TAMARI SAUCE
Tamari or soy sauce can be used in this recipe. For those not familiar with tamari, it is similar in colour and flavour to soy sauce but is made without wheat. (However, if you're avoiding gluten, always double-check the label to confirm.) Soy sauce does contain wheat. I often opt for tamari as the taste is more balanced and less salty than traditional soy sauce.
ALTERNATIVE TO TOFU
For those not keen on tofu, marinate diced chicken in a similar marinade and cook separately. Mix it in with the stir-fry at the end and then everyone can pick out their protein of choice.
---
Reproduced with permission from Jean Hailes. © 2023 Jean Hailes Foundation. All rights reserved.